Glazed Stir fried Mushrooms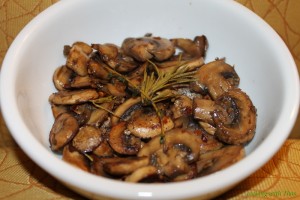 Button Mushrooms- 1 pack
Minced garlic- 1tsp
Red pepper flakes- ½ tsp
Fresh Rosemary sprigs- 1
Thyme sprig- 1
Pepper powder-1/2 tsp
Salt- to taste
Balsamic Vinegar- 1 tbsp
Butter or olive oil- 1-2 tsp
In  a wide skillet, add  olive oil, add garlic and saute.
When the garlic starts to turn golden, add red pepper flakes, give it a stir and add mushrooms to this.
Add fresh herbs to this, rosemary and thyme, along with salt and pepper powder.
In medium high heat, stir fry the mushrooms until it turns brown.
Finally, glaze the mushrooms with 1 tbsp of balsamic vinegar.
Stir fry in the vinegar for a second and remove from the stove.
Serve hot as a side dish or spread the glazed mushrooms over baked chicken or steak.