Shrimp Sweet Corn Soup - Indo Chinese Soup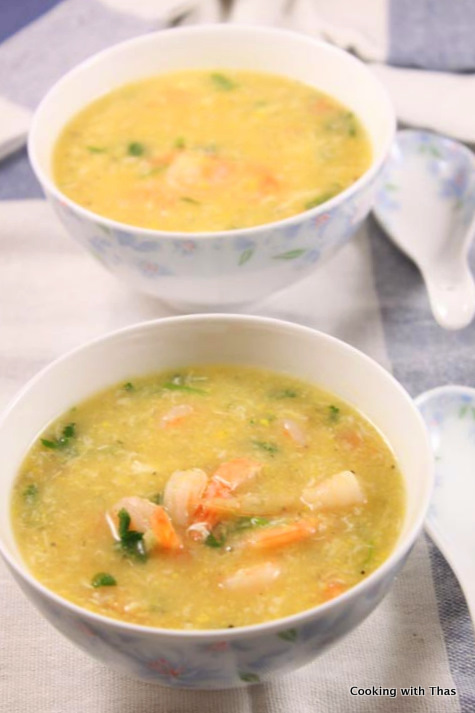 Shrimp small, cooked- 20
Chicken stock (low sodium) or Bouillon cube- 3 cups stock or 1 bouillon cube
Cream of corn, canned- use ¾ th of 14 oz can
Corn starch- 1 tbsp dissolved in 1 tbsp cold water
Rice Vinegar- ½ tbsp
Soy Sauce, low sodium- 1 tbsp
Ground black pepper- ½ tsp
Cilantro, chopped- ¼ cup
Egg beaten- 1
In a large pot, heat the chicken stock.
If you are using bouillon cube, add the cube in 3 cups water and heat it stirring to dissolve the cube.
Add cream of corn to the chicken stock and combine well.
If you only have whole kernel corn (canned), puree this in little water to make it into a cream.
Use only ¾ of the 14 oz can, if too much cream of corn is added the soup will have a sweet taste.
Now, add the cooked shrimp to the pot and cook for 3 minutes.
In a small bowl, dissolve 1 tbsp corn starch in 1 tbsp cold water.
Add the dissolved corn starch to the soup and keep stirring.
Add the soy sauce, ground pepper & rice vinegar.
Add cilantro to the soup, combine well.
In a bowl, beat the egg well using a fork.
Increase the heat to medium-high and let the soup come to a rolling boil.
Slowly add the beaten egg and keep stirring the soup till the egg turn into threads.
If you don't stir the soup while adding the egg, you won't get the thread shape instead lumps will be formed.
Combine well and remove the pot from the heat.
Ladle into soup bowls and enjoy when it is still warm.
If you want more spice, sprinkle ground black pepper while having it.
Enjoy!