Ground Beef Cake or Shami Kabab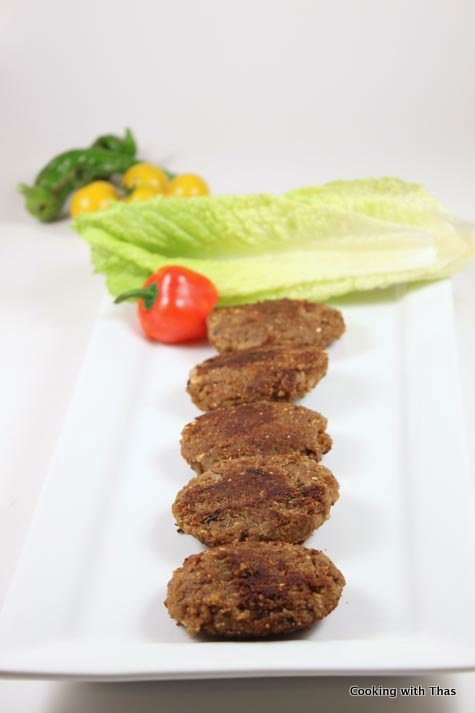 Ground beef or lamb- 1 lb or ½ Kg
Oil- 1 tbsp
Cloves- 2
Cinnamon- 2 inch slice
Red onion, chopped small- 1
Ginger garlic paste- 2 tsp
Green chili, chopped- 2
Tomato, chopped- 1
Turmeric powder- ⅛ tsp
Chili powder- 1 tsp
Salt- to taste
Cilantro, chopped- 2 handful
Roasted gram-split flour or Daliya flour (porikadala)- 1 cup (or use ground oats)
Vegetable oil- for shallow frying the ground beef patties
If you can only get hold of roasted gram-split, grind it to a fine powder in a blender. If you don't have daliya flour, use ground oats instead.
Place a wok or wide pan over medium heat.
Add oil, let it turn hot, add cloves and cinnamon.
Add chopped onion and little salt, saute till it turns tender.
Add ginger-garlic paste and green chilies, saute for couple of minutes.
Add tomato, cook till gets mashed up.
Now, add turmeric powder and chili powder to it, combine well.
Add ground beef or lamb to it, combine well.
Cook the ground beef till the water dries out.
At the end it should be a very dry mixture.
Taste and add salt to your taste.
Sprinkle chopped cilantro, combine and cook for a minute.
Remove from the flame and let cool down.
In a blender, grind the cooked ground beef mixture to a smooth paste.
Even though we used ground beef, it will be still grainy so to make into a smooth texture we have to grind it to a smooth paste.
Make sure the ground beef mixture is very dry otherwise the ground paste will be watery.
Place the ground paste in a bowl, add 1 cup of roasted split-gram flour and combine well.
Make it into a dough constituency.
If the dough is too soft, you could add some more flour to get the right constituency.
You should be able to hold the dough into patties.
Make small round, oval or any desired shaped patties out of the dough.
Heat oil in a frying pan, place the patties and shallow fry till both the sides turn golden brown in color.
If you want you could deep fry it, it's your choice.
Transfer to a paper towel.
Serve on a plate and garnish with cilantro.
Serve along with my favorite quick salad or ketchup.
If you don't have ground beef or lamb, you could still make this with stew cut beef or lamb.
Cook the stew cut (boneless) beef or lamb in a pressure cooker until it has cooked well.
Add this to the cooked onion-tomato mixture and grind it into a smooth paste.
Recipe by
Cooking with Thas - Healthy Recipes, Instant pot, Videos by Thasneen
at https://www.thasneen.com/cooking/ground-beef-cake-shaami-kabab/