Lentil and Mixed Veggie Curry or Sambar - South Indian Curry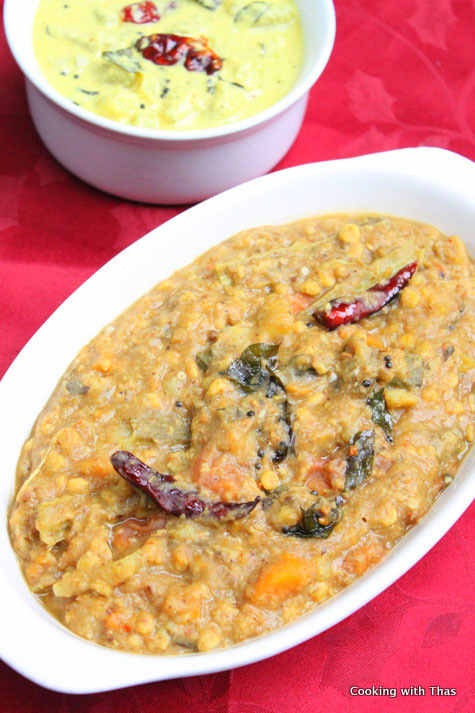 Toor dal or Pigeon pea- 1 cup
Small onions, whole- 10
Carrot, diced- 2
Potato, diced- 1 large
Eggplant, diced- 2 cups
Drumsticks, cut 3 inch long- 2 sticks
Ash gourd, diced- ½
Raw plantain, diced- 1 (optional)
Green chilies, halved- 4
Turmeric powder- ¼ tsp
Asafetida- 2 pinches
Water- ½ cup
Salt- to taste
Coconut, grated- ½ cup
Dry red whole chilies- 5
Coriander seeds- 1½ tbsp
Cumin seeds- 1 tsp
Curry leaves- 1 sprig
Small onions- 5 no's
Water- very little
Okra or Lady's finger, cut 1 inch long- 10
Tomatoes, chopped- 2 no's
Tamarind juice, freshly squeezed- 6 tbsp (3 inch slice soaked in 6 tbsp warm water)
Chili powder- 1 tsp (add only if required)
Asafetida- ⅛ tsp
Water- to thin down the gravy
Coconut oil- 1 tbsp
Coconut oil- 3 tbsp
Mustard seeds- 2 tsp
Whole dry red chilies- 3
Curry leaves- 1 sprig
Fenugreek seeds- 1 tsp
Roast the grated coconut, dry red chilies, coriander seeds, cumin seeds, small onions and curry leaves in a pan over medium heat till the coconut turns golden brown in color.
Let cool down and grind the roasted coconut mixture along with little water to a smooth paste, keep aside.
Rinse the toor dal or pigeon peas taken in a strainer under running water.
In a pressure cooker, combine toor dal along with the veggies and other ingredients mentioned to "cook in the pressure cooker".
Add 1 tbsp of the ground coconut paste to the veggies and cook till 1 whistle or till veggies have cooked well.
In a wok or large pan, add 1 tbsp coconut oil, add okra or lady's finger to it and saute till it turns slightly tender.
Add tomatoes to it and cook. Don't mash the tomatoes.
Now, add the cooked lentil and veggie mixture to the cooked okra and tomatoes, combine well.
Combine the rest of the ground mixture (around 4-5 tbsp) with ½ cup waterand pour this into the veggie mixture.
Cook it for 5 minutes.
Taste and add salt according to your needs.
If you want the sambar to be spicy you could add 1 tsp of chili powder at this time.
Soak 3 inch sized tamarind in 6 tbsp warm water, squeeze it into the water, strain the juice from it.
Add the tamarind juice to the lentil-veggie mixture, combine well and let it come to a boil.
Add ⅛ tsp asafetida and combine well.
If the gravy is thick, add some water to thin it down. It shouldn't be too watery though.
Cook for a couple of minutes and cover the pan with its lid, remove from the heat.
Making the seasoning:
Heat a frying pan, add oil, add mustard seeds, let it splutter.
Add whole dry chilies and curry leaves, saute for a second.
Finally add fenugreek seeds, fry for a second, don't over fry it.
Remove from the heat and pour the seasoning over the cooked sambar.
Keep the sambar covered for sometime so that the flavors will get into it.
Serve in a bowl, sambar can be served along with rice, dosa, idli and vada.
If you don't have a pressure cooker, you could cook this in a large pot, make sure veggies and lentils have cooked well.
Drumsticks, ash gourd and raw plantain are available in most Indian and some Asian superstores.
Raw plantain is just optional, so you don't have to add it.
Make sure you add asafetida, as this gives a nice aroma and taste to the sambar.
If you are using concentrated tamarind paste,use less amount may be 1 tsp or so.
Coconut oil makes the sambar taste better, if you don't have you could use vegetable oil.
While making the seasoning, add the fenugreek seeds only at the end and don't over fry it as it would impart a bitter taste to the sambar.
Adjust the spice and tamarind according to your needs.
Sambar would turn thick when kept longer, while heating it add enough water to thin it down.
Recipe by
Cooking with Thas - Healthy Recipes, Instant pot, Videos by Thasneen
at https://www.thasneen.com/cooking/lentil-and-mixed-veggie-curry-or-sambar-south-indian-curry/