Chocolate Almond Coconut Biscotti or Biscuit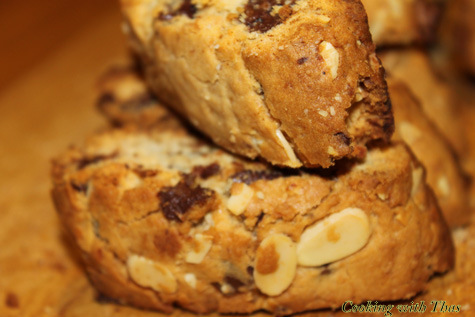 All-purpose flour-2½ cups
Baking powder-1½ tsp
Salt-1/4 tsp
Unsalted butter, softened-1/2 cup (4 oz)
Firmly packed light brown sugar-3/4 cup
Eggs (at room temperature)-2
Vanilla extract-1 tsp
Sweetened shredded coconut-1/2 cup
Chopped toasted almonds-1 cup
Semisweet mini chocolate chips or chocolate bar, cut into small slices-1 cup
Preheat the oven to 350 F or 177 C.
In a medium bowl, whisk the flour, baking powder, and salt.
In another bowl, beat the butter and sugar with an electric hand mixer or in a stand mixer fitted with the paddle attachment, on medium speed until light and fluffy, about 3 minutes.
Add the eggs one at a time, mixing on medium speed after each addition until incorporated.
Mix in the vanilla extract and then add the shredded coconut until well combined.
With the mixer on low speed, gradually add the flour mixture and mix just until combined. The dough will be sticky.
With the mixer still on low, mix in the almonds and chocolate chips.
Cover the bowl with plastic wrap and refrigerate for 30 minutes.
Line a large cookie sheet with parchment paper.
Divide the dough into equal halves and place it on the parchment paper.
Shape each half into a loaf about 10 inches long, 3 inches wide, ¾ inch high.
Place the baking sheet on the middle rack in the preheated oven.
Bake until the tops are browned, cracked, and crusty and spring back slightly when gently pressed, 30 minutes.
Take the baking sheet out of the oven, let cool down for 15 minutes on the cookie sheet.
Reduce the oven temperature to 325 F or 165 C.
Transfer each loaf to a cutting board and with a sharp serrated bread knife, cut ½ inch slices crosswise on the diagonal.
When slicing, hold the sides of the loaf near each cut to keep the slices neat.
Place the slices cut side down on the cookie sheet and bake again at 325 F until the biscotti are dried and the cut surfaces are lightly browned, 15 minutes.
Transfer the cookie sheet to a rack and let the biscotti cool completely.
The biscotti will harden as they cool.
This recipe yields about 20 biscotti, store in an air-tight container and it will stay longer.
Recipe by
Cooking with Thas - Healthy Recipes, Instant pot, Videos by Thasneen
at https://www.thasneen.com/cooking/chocolate-almond-coconut-biscotti-recipe/