Baked Chicken Balls With Spinach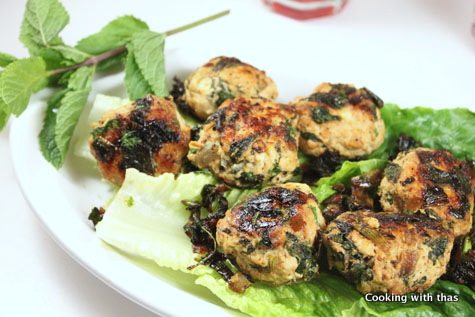 Ground chicken breast- 1 pound (or grind 4 chicken breasts in a blender)
Chili powder- 1 tsp
Salt- little
Oil- 1 tbsp
Spinach- ½ bunch
Fennel seeds- 1 tsp
Onion, chopped small- 1
Ginger-Garlic paste- 2 tsp
Ground pepper- ¼ tsp
Oil- 1 tbsp
Ginger, chopped thin and long- 2 inch slice
Garlic chopped, thin- 4 cloves
Green onions, chopped- 3 stalks
Ground pepper- ½ tsp
Mint leaves, chopped- ¼ cup
Soy sauce- 2 tbsp
You could use ground chicken breasts bought from the store or grind washed chicken breasts- 4 no's to smooth constituency without adding any water.
Combine the ground chicken with chili powder and salt, add little salt as we will be using soy sauce while stir frying which has salt too.
Heat a non-stick pan, add oil, when it turns hot add fennel seeds.
Add onion and saute till translucent, add ginger-garlic paste, saute for a minute.
Add spinach and ground pepper to it, let the spinach cook for a few minutes.
After the spinach has cooked, add the spinach mixture to the ground chicken mixture, combine well.
Make small balls out of it, keep aside.
Pre heat oven to 350F.
Place the chicken balls on a baking sheet lined with aluminum foil and sprayed with non-stick cooking spray.
Bake for 30 minutes.
Remove from the oven.
Heat a wok or skillet, add oil, add chopped ginger and garlic to it, stir fry for a second.
Add green onions and stir fry for a second.
Don't fry the ginger-garlic and green onions till it turns brown.
Now, add baked chicken balls and stir fry till it starts to turn golden brown in color.
Sprinkle the chopped mint leaves over the chicken balls and stir fry it.
Add ground pepper and pour soy sauce over the chicken balls.
If you want it more spicy add more of the ground pepper.
Cook for a minute and remove from the heat.
Serve hot as an appetizer or you could even insert a tooth pick on the balls and serve as finger food.
Mint leaves imparts a mesmerizing and refreshing fragrance to the chicken.
•If you don't have mint you could use cilantro, but I highly recommend mint leaves.
Recipe by
Cooking with Thas - Healthy Recipes, Instant pot, Videos by Thasneen
at https://www.thasneen.com/cooking/baked-chicken-balls-with-spinach/