Stuffed Gourmet Mushrooms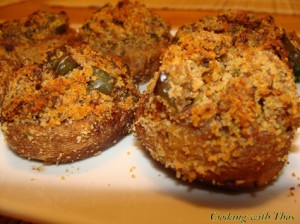 Mushroom stems chopped - ½ cup
Finely chopped onions- 1
Finely diced green pepper -1/4 cup
Finely diced celery- ¼ cup
Garlic cloves minced-2 cloves
Parmesan cheese-1/4 cup
Dried oregano leaves-1tsp
Parsley leaves chopped
Ground Pepper-1/4 tsp
Butter- 2 tbsp
Salt- to taste
Bread crumbs- ½ cup
Ground pepper- ¼ tsp
Olive oil- 1 tbsp
Remove the stems from the whole mushrooms, there should be enough room for the stuffing.
Chop the stems and keep it aside, we will be using this while making the stuffing.
Preheat the oven to 400F.
Bake the mushroom caps for 10 minutes so that the water oozes out of the mushrooms.
Combine the bread crumbs, ground pepper and olive oil. Roast the breadcrumbs over medium heat until it turns golden brown. Keep aside the roasted breadcrumbs.
Heat a deep bottomed skillet.
Add the butter, when the butter melts, add the onions and saute the onions till translucent.
Add the garlic and all the other veggies: diced celery, diced green peppers, chopped mushroom stems and saute.
When the veggies starts to brown up, add dried oregano, parsley leaves, salt and ground pepper.
Add the roasted bread crumbs and parmesan cheese, mix everything well.
The stuffing is ready, let it cool down.
Place 1 tbsp of stuffing into the cap of the baked mushrooms.
Place the stuffed mushrooms on a baking tray, bake for 20 minutes until the mushrooms become tender and the stuffing turns golden brown in color.