Poached Egg Korma - Easy and the Best Egg Recipe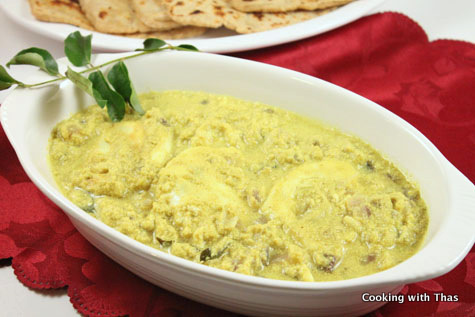 Grated coconut- 1 cup
Whole Cinnamon- 2 inch piece
Fennel powder- 2 tsp
Turmeric powder- ¼ tsp
Green chili, chopped- 1
Curry leaves- 1 sprig
Water- ¾ cup
Oil- 2 tbsp
Onion, chopped small- 1 large
Eggs- 3 or 4
Curry leaves- 1 sprig
Salt- to taste
Water- ½ cup to thin down the gravy
In a blender, grind the above mentioned ingredients "to grind" to a smooth paste.
Place a sauce pan over medium heat, add oil.
Add onion, curry leaves and little salt, saute till onion starts to turn golden in color.
Pour the ground coconut paste to the pan.
Rinse the blender with little water and pour it to the pan.
Add ½ cup water to the ground coconut to thin it down.
Let it come to a slight boil.
Taste and add salt according to your needs.
Break the eggs one at a time into the coconut gravy.
Don't crowd the eggs.
Cover the pan and let the egg cook in the gravy for about 5 minutes or till eggs are cooked well.
Open the lid, using a spatula gently try to lift the poached eggs.
If it slides onto the spatula smoothly and has thickened, the egg has cooked well.
Don't stir the gravy too much as it will break the eggs.
As the eggs get poached the gravy will turn thick.
Remove from the heat and keep the pan covered for 5 minutes.
Serve along with chapati, Idiyappam, Orotti or your favorite flat bread.