Chicken and Okra Gumbo - Louisiana Recipe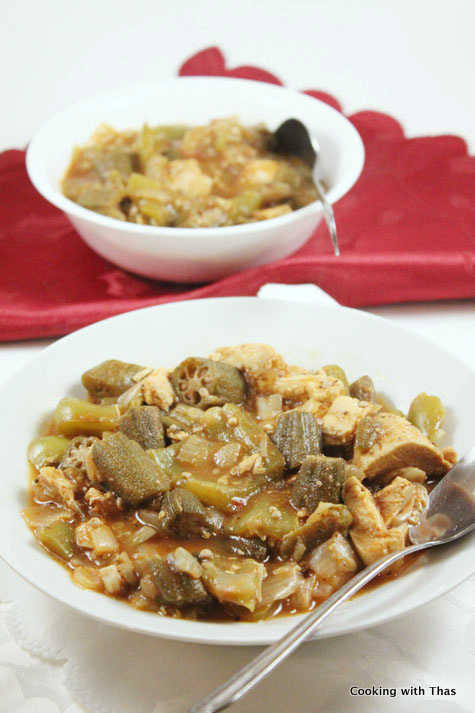 Chicken Breasts- 3
Ground Cumin- 1½ tsp
Ground pepper- ⅛ tsp/ breast
Salt- little to sprinkle on chicken
Oil- 2 tbsp
Onion, chopped- 1, large
Garlic, chopped- 4 cloves
Green pepper, chopped- 1
Celery, chopped- 2 stalks
Oregano, fresh or dried- 2 stalks or 2 tsp dried
Okra, cut round- 1 packet or 15
Chicken Bouillon cube- ½ cube
Water- 2 cups
Chill powder- ½ tsp
Ground pepper- ½ tsp
Ground cumin- ½ tsp
Cajun seasoning (optional)- 1 tbsp
Tomato paste- 4 tbsp
Preheat oven to 375 F.
Sprinkle ground cumin, ground pepper and salt over the chicken breasts.
Place it on a baking sheet lined with aluminum foil and grease the foil with cooking spray.
Bake for the first 30 minutes.
After 30 minutes flip it over and bake for another 20 minutes.
Remove from the oven and cut the chicken into long stripes.
Place a large pan or dutch oven over medium heat, add oil to it.
Add onion and saute for a few minutes.
Add garlic to it and saute for a minute.
Now, add oregano, green pepper, celery and okra to the pan
Cover the pan with its lid and cook till veggies turn tender.
Add ½ bouillon cube and 2 cups water to the veggies.
Sprinkle, chili powder, ground cumin, ground pepper and cajun seasoning to the mixture.
Cover and cook till okra has cooked well.
Add chicken stripes and cook for 5 more minutes.
Add tomato paste and combine well, cook for another 2 minutes.
If it's too thick you can thin it down by adding water.
Remove the pan from the heat, serve the gumbo over white rice on a plate or large bowl.
•You could use low sodium chicken stock instead of water.
•For a vegetarian version: Skip chicken and make just with veggies.
•For a sea food version: Add shell fish instead of chicken, you don't have to bake the shell fish. You have to add shell fish along with the veggies and cook till shell fish has cooked well.
Recipe by
Cooking with Thas - Healthy Recipes, Instant pot, Videos by Thasneen
at https://www.thasneen.com/cooking/chicken-and-okra-gumbo-louisiana-recipe/