Chicken Empanadas - Mexican Appetizer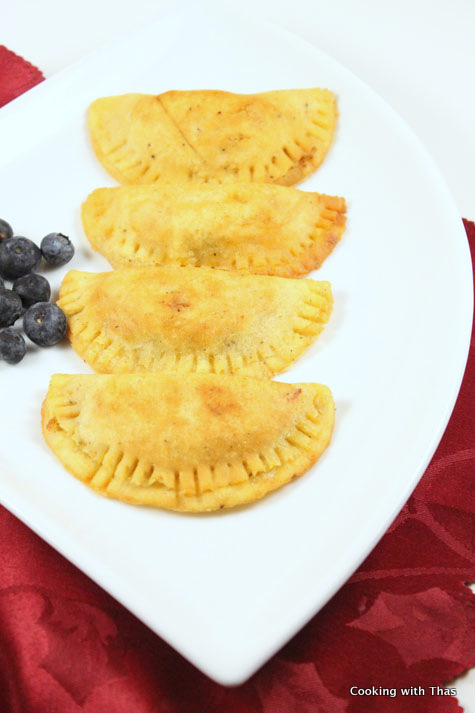 Oil- to grease the plastic cover
Vegetable oil- enough to deep fry
After 20 minutes, take the dough from the refrigerator.
Make small balls out of it and keep it on a plate.
I tried rolling the dough on a floured board, the dough cracked a lot, hence I tried the following method which worked well for me.
Cut a ziploc bag into two halves or use any thick plastic bags.
Grease the cut halves with little oil. Make sure to grease before you roll each dough.
Place the dough ball on one of the halves.
Cover the dough ball with the other ziploc half.
Using a wooden pin, roll it gently to a round shape over the plastic cover.
Don't roll the dough too thin.
Using a cookie cutter or any small round lid with sharp edges (I used the lid of 8 oz cream cheese box), make a round shape out of the rolled dough.
Place 1 tbsp of filling on the dough. Don't overstuff as the dough will break apart.
Close the dough to the shape of a half moon.
Seal the edges of the roll, the dough is very soft so just press the dough down at the edge, else use little water.
Using a fork, make marks at the edge of the roll: gently press the fork over the edge.
Place a frying pan over medium heat, add enough oil to deep fry. Let the oil get hot.
Place the stuffed empanadas into the hot oil and fry till both sides turn golden in color.
Transfer the fried empanadas over a paper towel.
Serve hot with your favorite sauce or ketchup.
You wouldn't be using all the filling, you can serve the filling along with fried empanadas. The filling itself tastes good.