Chicken Empanadas - Mexican Appetizer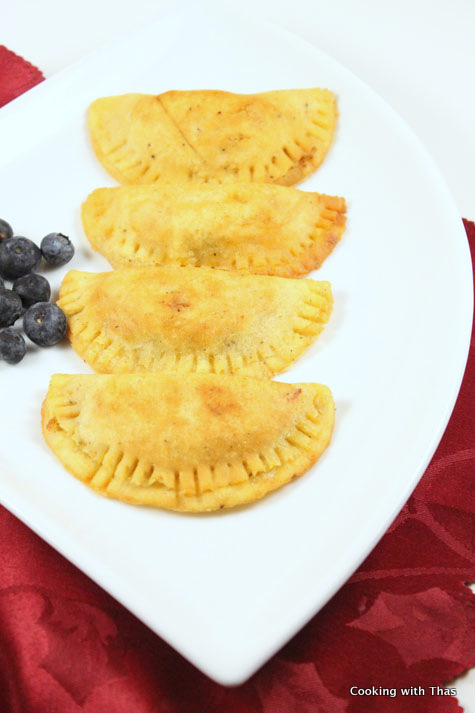 Chicken, boneless breasts- 2 breasts
Chicken stock or bouillon cube- 1½ cups stock or ½ cube dissolved in 1½ cups water
Bay leaves- 2
Olive oil- 2 tbsp
Onion, chopped small- 2
Paprika- 2 tsp
Cumin powder- 1 tsp
Chili powder- ¾ tsp
Ground pepper- if needed, ¼ tsp
Salt- very little
Hard boiled eggs- 2
Green olives, pickled or fresh, chopped- ½ cup
Pour the chicken stock or bouillon cube combined with water and bay leaves into a large pan.
Place the chicken breasts into the stock.
Place the pan over medium heat, let the stock come to a boil.
Cover the pan with its lid and let cook at low flame for 20-25 minutes, till the chicken has cooked well.
After the chicken has cooked, let it cool down.
Save the chicken stock, you could use it to make soup.
Remove the chicken from the stock, place it on a cutting board and shred it into small pieces using a knife.
Place a saucepan over medium heat, add oil.
Add onions and little salt, cook till onions turn tender.
If you are using pickled olives, don't add too much salt as the olives have enough salt in it.
Add paprika, cumin powder and chili powder to the onions.
Cook for some more time till onions start to turn golden in color, remove from the flame.
Boil 2 eggs in water, remove the shells and chop it into small pieces.
You could use fresh or pickled olives. If using pickled olives, rinse the olives under water to remove excess salt from it.
Chop olives into small pieces.
Add shredded chicken, chopped eggs and chopped olives into the onion mixture.
Taste the mixture, if you need more spice add ground pepper to it.
Combine everything well, let cool down.