Ground Beef Couscous with Almonds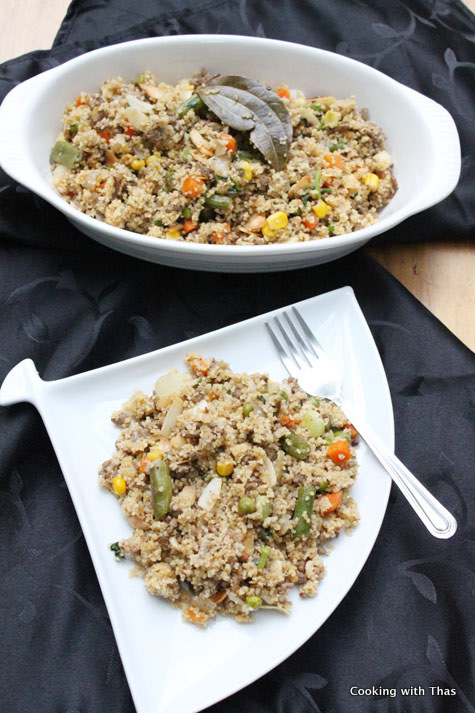 Oil- 2 tbsp
Bay leaves- 2
Cloves, whole- 2
Cardamom, whole- 2
Cinnamon- 1 inch, broken into small pieces
Ginger, minced- 1 tsp
Garlic, minced- 1 tsp
Green chili, chopped- 2
Onion, chopped small- 1
Ground beef- ½ pound
Mixed veggies: carrot, corn, beans and peas (frozen or fresh)- 1 cup
Garam masala- ½ tsp
Chili powder- ¾ tsp
Turmeric powder- 2 pinches
Coriander powder- 1 tsp
Fennel powder- 1 tsp
Cilantro, chopped- 1 handful
Water- 1 cup
Couscous- 1 cup
Salt- to taste
Toasted skinless almonds, cut thin (optional)- ½ cup
Place a large pan over medium heat, add oil.
When the oil gets hot; add bay leaves, cloves, cardamom, cinnamon, saute for a second.
Add ginger, garlic and chilies, saute for a minute.
Add onion, little salt and saute till tender.
Add the mixed veggies and ground beef to the onion.
Using your spoon, gently break the ground beef.
Cook covered till the ground beef has cooked well.
Open the lid and saute till the beef turns light brown in color.
Add garam masala, chili powder, coriander powder, fennel powder, salt saute for a few seconds and combine everything well.
Add 1 cup of water and cilantro to the ground beef mixture.
Let the water come to a boil.
Add couscous to the boiling water.
Cover the pan with its lid and remove from the heat.
Let stand for 3 minutes.
In a small pan, toast the almonds(skinless) till golden in color.
Open the lid and combine the couscous and the ground beef using a fork.
Sprinkle the toasted almonds over the cooked couscous.
Serve hot along with Raita or Pickle.
•Adjust the spice level according to your needs.
Recipe by
Cooking with Thas - Healthy Recipes, Instant pot, Videos by Thasneen
at https://www.thasneen.com/cooking/ground-beef-couscous-with-almonds/