Fried Baby Corn Stir-Fry (Indo Chinese) Recipe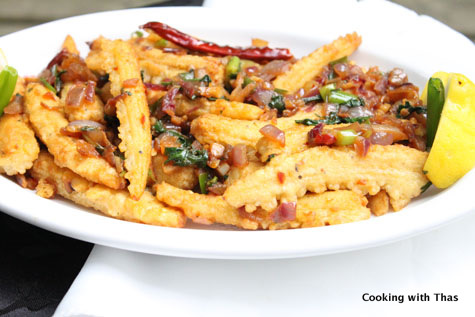 Baby corn, canned, rinsed- 1 can or 15
Oil- enough for deep frying
Corn starch- ½ cup
Egg- 1
Ginger-Garlic paste- 2 tsp
Ground pepper- ¼ tsp
Salt- to taste
Cold water- ¼ cup
Oil, used for frying- 2 tbsp
Garlic, minced- 3 cloves
Dry whole red chilies- 2
Red onion, chopped small- 1
Soy sauce- 3 tbsp
Chili paste- ½ tsp
Water- 1 tbsp
Lemon juice- 1tsp
Green onion, chopped- 1 stalk
Cilantro, chopped- 2 handfuls
Gluten free batter:In a large bowl combine corn starch, egg, ginger-garlic paste, ground pepper and salt, add cold water and make into a thick batter.
You could even use 2 tbsp of all purpose flour and little more water while making the batter.
If you are using canned baby corns, rinse with water and pat dry them.
Place a frying pan over medium heat, add oil and let it turn hot.
Dip the baby corns in the batter, coat well and put them into the hot oil.
Make sure the baby corns are dipped well in the oil while frying.
Fry till it turns golden in color.
Transfer on a paper towel.
Place a skillet or pan over medium heat, add 2 tbsp of oil used for frying baby corns.
Add garlic and fry till it starts to turn golden in color.
Add dry red chilies and saute for a second.
Add the chopped onions and saute till it turns light brown.
To the onions, add soy sauce, chili paste and water.
Let the sauce come to a boil.
Now, add spring onions and cilantro, combine well.
Add the fried baby corns to the mixture and drizzle lemon juice over it.
Combine with the sauce, stir fry for 2 minutes.
Serve while it's warm as an appetizer.