Ghee Fried Rice Flakes Balls with Plantain and Dates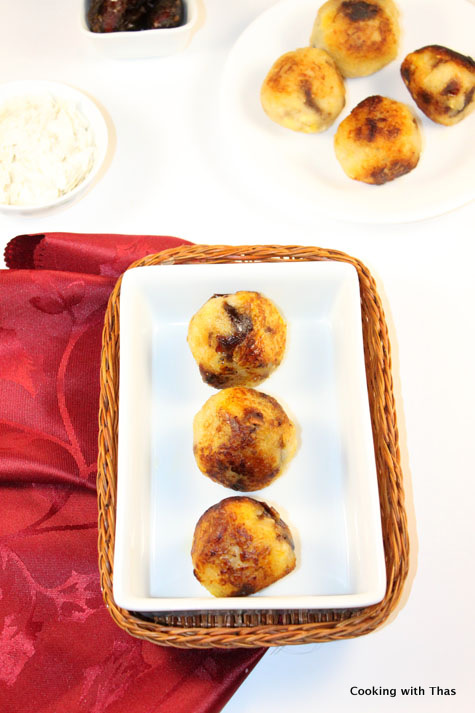 Rice flakes, white or brown- 1½ cups
Water- ¼ cup (to wet rice flakes)
Plantain or banana, ripe- 1
Dates, pitted- 12
Sugar- 1 tbsp
Saffron- 2 pinches (optional)
Ghee- 3-4 tbsp
Wet the rice flakes with ¼ cup water till it turns soft, don't make it too mushy. Drain the water through a sieve and gently press the rice flakes so that the water drains well.
In a bowl, combine rice flakes with plantain or banana, dates, sugar and saffron.
Using your hands, mix well till everything is well incorporated.
Make medium sized balls out of it and keep aside.
Place a frying pan over medium heat, when it turns hot add ghee.
Place the rice flakes balls over the ghee and fry it till it turns golden brown.
If needed add more ghee.
Remove from the pan and place the balls on a plate.
If there is any ghee left on the pan, pour it over the fried balls
Serve warm.
•You could use ripe banana instead of plantain, with ripe plantain rice flakes balls taste even more delicious.
•If you are using thin rice flakes, it only takes a minute or so to turn soft when wetted with water; if the rice flakes are thick it might take more time to turn soft.
Recipe by
Cooking with Thas - Healthy Recipes, Instant pot, Videos by Thasneen
at https://www.thasneen.com/cooking/ghee-fried-rice-flakes-balls-plantain-dates/