Pasta in Creamy Mushroom Sauce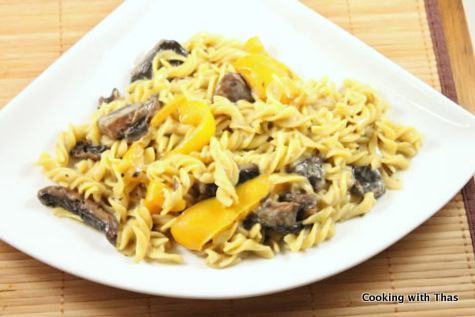 Pasta, fusilli or any type- ½ packet or according to your needs
Mushroom, brown large, cut into stripes- 3
Yellow peppers, cut into stripes (optional)- 2
Olive oil- 1 tbsp
Butter- ½ tbsp
Garlic, minced- 1 tbsp
Italian seasoning- 1 tbsp
Chicken stock- 1 cup (or use ½ bouillon cube mixed with 1 cup water)
Sour cream- ½ cup
Cornstarch- 1 tbsp combined with little cold water
Parmesan cheese, grated- ¼ cup or according to your needs
Salt- to taste
Cook the pasta in boiling water along with little salt till it turns tender, drain water and keep aside. To prevent from sticking sprinkle some olive oil.
Heat a skillet, add olive oil and melt butter to it.
Add the mushrooms and saute till it turns slightly tender.
Add yellow peppers and saute for 2 minutes.
Stir in the garlic and Italian seasoning.
Pour the chicken stock, let it come to a boil.
Reduce the heat to low and add the sour cream, combine it well.
Now, add the corn starch combined in little cold water, gently combine everything well.
Since chicken stock has salt, you don't have to add more salt, so taste the sauce and add salt if needed.
Pour the creamy mushroom sauce over the cooked pasta and gently combine well.
Serve pasta in a bowl and sprinkle generously with grated parmesan cheese.