Unnakaya or Stuffed Plantain Fry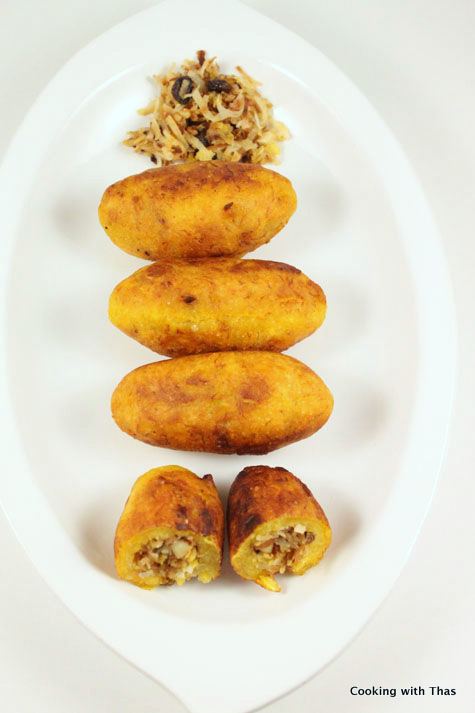 Plantains- 2 ( try to get the right plantain, not too ripe and not too raw)
Grated coconut- 1 cup
Cashew nuts or almonds, chopped- 2 tbsp
Raisins- 1 tbsp
Egg, beaten-1
Sugar-2 tbsp
Ground Cardamom-1/4 tsp
Ghee or butter-3 tbsp
For making this, plantains should not be too ripe nor too raw, should be some what in between.
Steam cook the plantains in an Instant pot for 2 minutes or in a steam cooker.
After it's steam cooked, remove the plantains from the steamer and let cool down.
Peel off the skin, cut the plantain into two halves and remove the black seeds from the center.
Mash the plantain using your clean hand or a potato masher or with a wooden spoon without any lumps.
Make into a soft dough and make medium-sized balls out of the dough.
If the dough is too smooth, add 2 tablespoons of rice flour to make it firm, the end result should be a soft dough.
Grease the palm of your hands with ghee, make the balls into round shapes.
Keep it aside to stuff the filling.
Heat a non-stick cooking pan, add 1 to tbsp ghee, add the grated coconut and the sugar, roast till coconut turns golden in color.
Crack an egg into a bowl, beat with a fork or whisk.
Add the egg to the coconut, scramble it.
Add cashew nuts and raisins, stir fry for 2 minutes.
Add ground cardamom, combine well.
Stuffing is ready, allow it to cool down.
Place 1 tbsp of stuffing on the round shaped plantain dough, the dough is very soft so it's easy to glue the edges and make into an oval shape.
Or spread little water to paste the ends.
Place a frying pan over medium heat, add oil for frying.
Fry the stuffed plantain in oil (add sufficient oil for deep frying) until golden brown.
Serve them on a platter.
Enjoy the crunchy plantains and the sweet stuffing.
For hardcore veggies: You could make the stuffing without the eggs, it tastes yummy.
Recipe by
Cooking with Thas - Healthy Recipes, Instant pot, Videos by Thasneen
at https://www.thasneen.com/cooking/unnakaya-stuffed-plantain-fry/