Fried Hard Boiled Eggs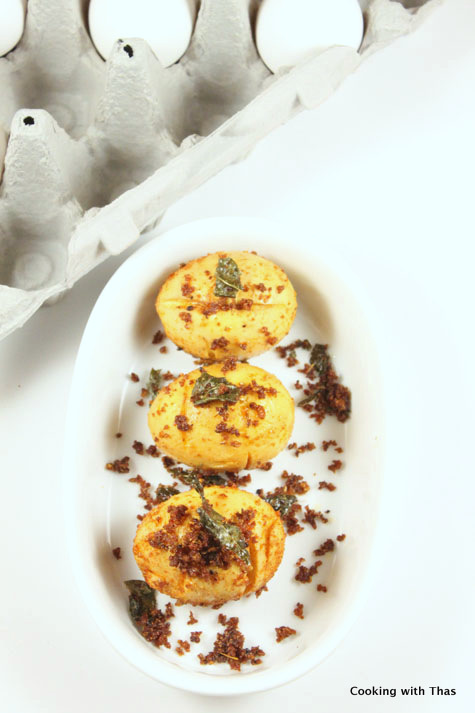 Eggs, at room temperature- 3
Curry leaves- 1 sprig
Oil- for frying
Ginger-Garlic paste- ½ tsp
Chili powder- 1 tsp
Turmeric powder- 2 pinches
Fennel powder- 1½ tsp
Garam masala- ½ tsp
Ground pepper- ¼ tsp
Lemon juice- 1 tsp
Salt- to taste
Water- ½ tbsp
Cook the eggs in boiling water for 15 minutes or so.
Let it cool down and gently de-shell the eggs without breaking the eggs..
In a bowl, add the above mentioned ingredients to make the marinade, combine with a fork to a paste.
Put 2-3 gashes or lines on the cooked eggs, as you do while marinating the chicken for frying.
Spread the marinade over the eggs till evenly coated, let stand for a few minutes.
Heat a frying pan, add oil.
Place the eggs in the oil and sprinkle curry leaves over it.
Deep fry till the eggs turn golden brown.
Transfer the fried eggs on a paper towel.
Using a slotted spoon, remove the fried masala and the fried curry leaves that have settled down at the bottom of the pan.
Sprinkle the fried masala over the fried eggs and serve.
The fried masala tastes really good along with the eggs.
Serve along with biryani or as an appetizer.