Eggless Chocolate Cake in a Mug (Microwave)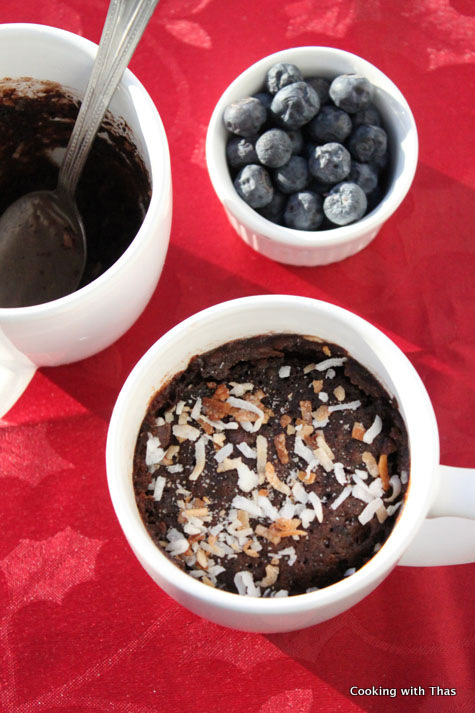 All purpose flour- 4 tbsp
Sugar- 2 tbsp
Cocoa powder- 1 tbsp
Baking powder- ¼ tsp
Milk, skim or whole- 3 tbsp
Oil- 3 tbsp
Vanilla extract- ¼ tsp
Sweetened coconut flakes or your favorite nuts- ½ tbsp
Chocolate chips- 1 tsp
Use a large mug.
Combine all the ingredients in the mug using a spoon.
Thoroughly mix it so that the flour is well incorporated.
You can add chopped nuts, chocolate chips, etc.
Make sure the batter fills only half way through the mug as the cake will rise while cooking.
Keep the mug with the batter in the microwave.
Cooking time might vary depending on the microwave, I recommend cooking it first at full power for a minute and then increasing the time till a fork inserted into the center of the cake comes out clean.
To make it even more delicious, top with a scoop of icecream.
Sit back and indulge in this delicious dessert that's made effortlessly. YUM!
You can top the cake in the mug with your favorite icecream.
Recipe by
Cooking with Thas - Healthy Recipes, Instant pot, Videos by Thasneen
at https://www.thasneen.com/cooking/eggless-chocolate-cake-in-a-mug-1-minute-microwave/