Chippi Appam or Mussel Stuffed Rice Dumplings Wrapped in Banana leaf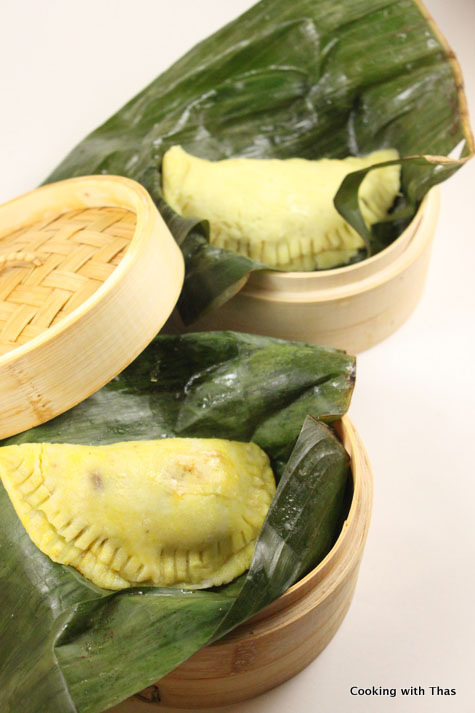 Rice flour- 1½ cups
Water- 1 cup
Grated coconut- ¼ cup
Ground fennel- 1 tsp
Garam masala- ½ tsp
Ground turmeric- ¼ tsp
Salt- to taste
Mussel, medium size- 25
Chili powder- 1 tsp
Ground pepper- ¼ tsp
Ground turmeric- 2 pinches
Salt- to taste
Oil- 3 tbsp, used for frying mussel
Red onion, chopped small- 1 large
Ginger minced- 2 tsp
Garlic, minced- 2 tsp
Green chili, cut small- 1
Curry leaves- 1 sprig
Tomato, chopped- 1
Garam masala- ½ tsp
Ground Fennel- 1 tsp
Ground Coriander- 1½ tsp
Salt- little
Oil- for greasing the banana leaves
Banana leaves
Marinate the mussel with the above mentioned ingredients for marination.
Heat a frying pan and add enough oil for shallow frying (don't have to add too much oil)
Add the mussels in oil and shallow fry it, don't over fry it till it turns crispy.
Transfer on a paper towel and keep aside.
Place a large pan over medium heat.
Add the same oil used for frying the mussels.
Add onions and little salt, saute till it turns tender.
To the onions, add minced ginger, garlic, chili and curry leaves.
Cook till the onions starts to get caramelized.
Add the chopped tomato and let it get mashed.
Add all the masalas: ground fennel, ground coriander and garam masala, combine well.
Put the shallow fried mussels to it and cook for a couple of minutes.
If the mixture is too dry, add little water to it and cook.
Remove from the heat and keep aside covered.
Tip: For making soft and better tasting dough, use roasted rice flour: if you are using store bought rice flour, roast it in a pan or oven ( 350 F) till it starts to turn light golden. Be careful not to over roast it or burn it.
Boil the water in a saucepan.
Add grated coconut, salt, ground fennel, turmeric powder and garam masala to it.
When the water comes to a boil, add rice flour and combine it using a wooden spoon.
Remove from the heat and let cool down for a few minutes.
You should start kneading, when the dough is still warm.
Knead it for 3 minutes until it's well incorporated.
If the dough is hard while kneading, sprinkle little hot water to it.
Keep aside, covered with a damp towel.
If you have a long banana leaf, cut it into 4 parts or so.
Wash the banana leaf well under running water.
Place it over low flame of your stove to wilt it, so that it won't tear apart.
Wipe the leaves with a paper towel.
Grease the banana leaf with little oil.
Take a small ball out of the prepared dough.
Place it on the banana leaf.
Using your hand, flatten it to a round shape, don't make it too thin. You could use little oil to flatten the dough.
Place 1 tbsp or so of mussel roast over it. Don't over stuff it.
Carefully close the dough and paste the edges.
Gently press a fork on the edge of the dumpling to make the marking (optional).
Wrap the stuffed dumpling with banana leaf, keep aside.
Place the wrapped dumpling in a bamboo steamer and close it with its lid.
I used bamboo steamer to steam cook, you could use regular steamer or keep the dumpling in a bowl covered with aluminum foil.
Add ½ cup water to a large wide pan, place it over medium heat.
Place the bamboo steamer over the hot water and let it steam cook for about 6 minutes.
After 6 minutes, carefully open the steamer and using a spatula to take the dumplings out and place it on a plate.
Repeat this till you have steamed all the dumplings.
Serve hot as an appetizer.
You can make the stuffing with shrimp or chicken as well. Follow the same recipe.
Using this recipe, you can only make 7 dumplings, double the amount for making the dough so that you can use all of the mussel roast.
If there is any mussel roast remaining, you can have that along with any rotis, chapatis, rice etc.
Recipe by
Cooking with Thas - Healthy Recipes, Instant pot, Videos by Thasneen
at https://www.thasneen.com/cooking/chippi-appam-or-mussel-stuffed-rice-dumplings-wrapped-in-banana-leaf/