Sesame Scallops in Creamy Asparagus Saffron Sauce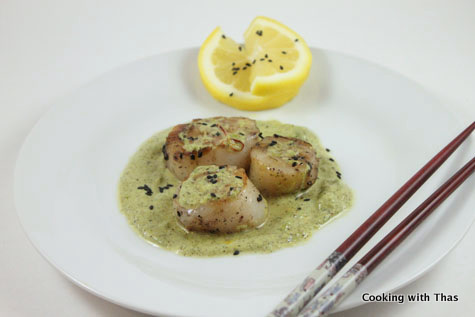 Scallops, jumbo- 6
Sesame seeds, black- 2 tbsp
Ground pepper- ¼ tsp
Salt- to taste
Olive oil- 1½ tbsp
Butter- ½ tbsp
Lemon juice- 1 tsp
Butter- 1 tbsp
Asparagus grilled with little ground pepper- 6
Water- ¼ cup + ¼ cup more
Chicken bouillon cube 0r use 3 tbsp chicken stock- ¼ of the cube
Half and half cream- ¼ cup
Saffron, strands- 6 strands
Season the scallops with sesame seeds, ground pepper, salt and olive oil, keep aside for 3 minutes.
Have your grill ready, grease the grill with non-stick cooking spray. Otherwise scallops will stick to the grill.
Place the scallops on the grill.
When it starts to turn golden color, place small slices of butter over each scallops.
Grill till both the sides of the scallops have turned light golden in color, about 4 minutes.
Drizze lemon juice over them.
Grill for a few more seconds.
Don't over grill the scallops as it will turn hard.
Remove from the grill and keep aside.
Grill the asparagus sprinkled with little ground pepper and olive oil, don't burn the asparagus.
Puree the asparagus with ¼ cup water to smooth paste.
In a small bowl, combine the cream and saffron strands, keep aside.
Heat a non-stick pan over medium heat, add butter and let it melt.
Pour the pureed asparagus and saute for a minute.
Add the chicken cube and ¼ cup more water, combine well.
When the sauce starts to bubble, add the cream along with the saffron strands.
Cook for a minute and let the sauce become thick.
Remove from the heat.
On a clean plate, pour 2 tbsp of the sauce, place the grilled sesame scallops over it and sprinkle little sesame seeds over the scallops.
Place lemon wedges on the sides.
If you don't have grill: cook the scallops in a non-stick cooking pan.
Recipe by
Cooking with Thas - Healthy Recipes, Instant pot, Videos by Thasneen
at https://www.thasneen.com/cooking/sesame-scallops-in-creamy-asparagus-saffron-sauce/