Taco Chicken and Baked Parsnips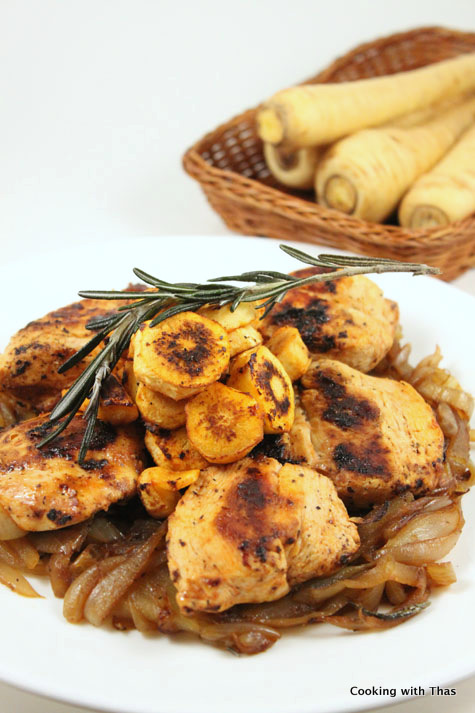 Chicken breasts, boneless- 4 (each cut into half)
Taco sauce- 3 tbsp
Ground pepper- ¼ tsp
Salt- little
Olive oil- 2 tbsp
Parsnips, cut round- 3
Taco sauce- 3 tbsp
Ground pepper- ¼ tsp
Cooking spray
Onions, cut thin and long- 3
Rosemary- 2 sprigs
Ground pepper- ¼ tsp
Salt- to taste
Marinate the chicken breasts with taco sauce, ground pepper and salt, keep aside for 10 minutes.
Heat a skillet over medium heat, add olive oil.
Place the marinated chicken breasts, cover the pan and cook till the chicken turns brown on both sides.
Remove from the pan and keep aside.
Peel the outer skin of parsnips, cut into 1 inch round shape.
Season the parsnips with taco sauce and ground pepper.
Preheat the oven to 400 F.
Spread the parsnips on a baking sheet lined with aluminum foil and greased with cooking spray.
Bake for 20 minutes, till the parsnips turn golden brown in color.
In the same skillet used for roasting chicken (as it has all the chicken drippings and oil) add the onions, rosemary, ground pepper and salt.
Cover the skillet with its lid and let the onion turn really tender.
Once the onions turn tender, uncover the skillet and let the onion turn caramelized, stir it frequently to avoid sticking to the skillet.
Make a bed of caramelized onions on a plate, place the chicken breasts and top it with baked parsnips.