Sesame Shrimp Salad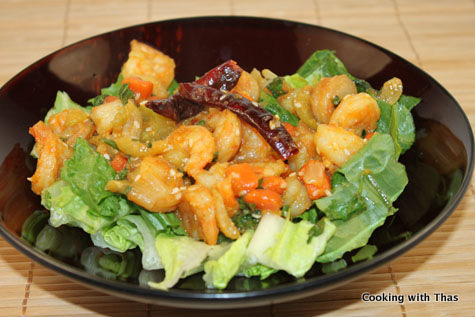 Vegetable oil- 1 tbsp
Whole dry Red Chili- 2
Onion, chopped- 1
Celery, diced- 2 stalk
Carrot, diced- 1
Shrimp, deveined small- 30
Sambal Oelek- ½ tsp
Soy sauce- 4 tbsp
Sesame oil- 1 tsp
Sesame seeds- ¼ cup
Cilantro, chopped- 1 handful
Clean and devein shrimp, keep aside.
Place a pan over medium heat and add oil.
When the oil gets hot, add dry red chili, saute.
Add onions and saute for a minute.
Add the diced celery and carrots, saute for a few minutes.
Now, add shrimp and cook covered till shrimp gets cooked well, for a few minutes.
To the cooked shrimp, add sambal oelek and soy sauce, combine well.
Stir fry the shrimp.
Add sesame oil and sprinkle sesame seeds over the shrimp.
Finish it off with chopped cilantro.
Serve hot along with salad.