Thai Summer Roll - Not Fried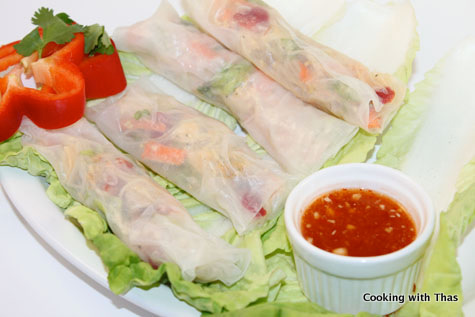 Chicken breast, boneless- 2 breasts
Soy sauce- 3 tbsp
Rice wine vinegar- 1½ tbsp
Ginger-Garlic paste- 1 tsp
Chili paste or Sambal- ½ tsp
Water- ⅓ cup
Carrot, cut thin small- 1
Red Pepper, cut thin small- 1
Bok Choy or lettuce, chopped- 3 leaves
Cooked Vermicelli noodles, cut small- 1 cup
Roasted Sesame seeds- ¼ cup
Cilantro, chopped- 1 handful
Soy Sauce- 1 tbsp
Lime juice - 2 tbsp
Ground pepper- ½ tsp
Salt - to taste
Soy sauce- 2 tbsp
Rice wine vinegar - ¼ cup
Fish sauce - 1tbsp
Sambal or Chili paste- ½ tsp
Garlic, minced - ½ tsp
Lime juice - 2 tbsp
Water- ⅓ cup
Rice Paper
Warm water, to soak the rice paper - taken in a deep flat pan
In a saucepan combine the chicken, soy sauce, rice wine vinegar, ginger-garlic paste, chili paste and water.
Cook the chicken covering the pan with its lid until it has cooked well and all the water has dried up, dice the chicken small and keep aside.
Cook the vermicelli noodles according to package instruction, drain water and chop small.
In a large bowl, combine the above mentioned for "making the filling" ingredients and keep aside.
For making the dipping: In a blender puree all the above mentioned "to make dipping" ingredients till smooth. Pour into a small bowl. This sauce is slightly spicy, if you want it less spicy adjust the amount of chili paste.
Soaking the Rice Paper. Fill a deep flat pan with warm water.
Take one rice paper and dip into the warm water for a few seconds till it gets soft.
Don't over soak the rice paper as it will fall apart.
Take the paper out of the water, hold it for a few seconds to let the water drain, gently place it on a plate.
Place 1-2 tbsp of filling onto one end of the soaked rice paper.
Roll it over holding tight two times, fold in the left and right sides, then tuck and roll it over to close the till the other end.
Place it on a platter and cover with a damp towel to prevent it from drying out.
Serve the rolls immediately along with the dipping sauce.
If there is any leftover filling, you could have that as a fresh salad after drizzling it with some dipping sauce.