Cauliflower and Fenugreek Leaves Korma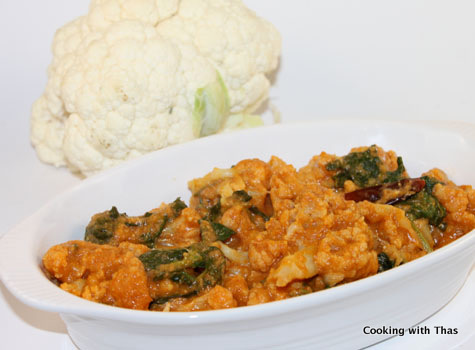 Cauliflower, cut into small florets- 1 medium size
Fenugreek leaves- 1 bunch
Onion, chopped- 2
Yogurt- ½ cup
Ginger-Garlic paste- 1 tbsp
Whole Red dry chili- 2
Chili powder- 1 tsp
Turmeric powder- ¼ tsp
Coriander powder- 1tsp
Garam masala- ½ tsp
Cumin powder- ½ tsp
Tomato paste- ¼ cup
Water- ¼ cup
Almond paste- ¼ cup ( combine ground almond with little water or soak 6 almonds in warm water and grind it into a smooth paste with little water)
Salt- to taste
Oil- 2 tbsp
Separate the cauliflower into small florets and soak in hot water for 10 minutes.
Place a pan over medium heat, add 1 tbsp oil, add onion and let it turn caramelized.
Grind the caramelized onion along with yogurt to a smooth paste and keep aside.
In the same pan, add ½ tbsp oil and add washed fenugreek leaves and saute for a few minutes. Remove from heat and keep aside.
Heat a large pan and add ½ tbsp oil to it.
Add whole red dry chilies and ginger-garlic paste, saute for a few seconds.
Lower the heat and add chili powder, turmeric powder, coriander powder, cumin powder and garam masala, saute for a second. Don't burn the ground spices.
Add the ground onion-yogurt mixture and combine well.
Add the tomato paste and combine everything well.
Put the cauliflower florets, combine with the yogurt sauce, add water and cook it for 15 - 20 minutes or till tender, after covering the pan with its lid.
When the cauliflower has turned tender, add the cooked fenugreek leaves and combine them together.
Now add the ground almond paste and cook for some more time till the sauce thickens.
Have a taste and add salt according to your needs.
Remove from the heat and serve along with roti or rice.