Pineapple Fried Rice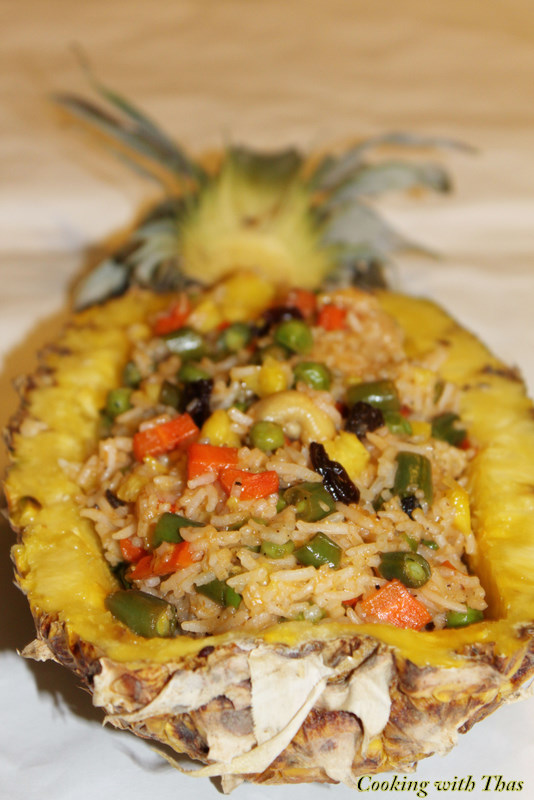 Basmati rice-1½ cups, soaked in water for 15 minutes
Cardamom whole-3
Cloves whole-3
Cinnamon whole-2 inch stick
Black Pepper whole-6
Bay leaf-1
Salt-to taste
Ghee/butter-1tbsp
Water-2½ cups
Carrot, finely chopped-1
Beans, finely chopped-1/4 cup
Frozen peas-1/2 cup
Ghee/butter-1 tbsp
Pineapple finely chopped, use fresh or canned, if using canned, rinse and use-1/2 cup
Black Pepper powder-1/2 tsp
Tomato Ketchup-2 to 3 tbsp
Roasted Cashew nuts, roasted in little ghee/butter- 10
Roasted Raisins, roasted in little ghee/butter-2tsp
Cilantro chopped-1 handful
Heat a deep bottomed non-stick dish, add ghee.
Add cardamom, cloves, cinnamon, black pepper corns and bay leaf, fry until aromatic.
Add the soaked, drained rice and fry for 5 minutes. Season with salt.
Pour water to the rice, close it with the lid and cook until the rice has cooked.
Don't over cook the rice.
If there is any excess water after completely cooking the rice, drain the cooked rice and keep it aside in a closed bowl.
You can also cook the rice in rice cooker. After frying the rice, transfer the rice to the rice cooker bowl, add water and cook in it.
If you want you can discard the whole spices after cooking the rice.
In a pan, add the ghee/butter and fry the veggies till they start to get caramelized.
Keep the fried veggies aside.
Heat a wok or a wide pan, add the cooked rice, fried veggies, and gently combine them.
Now add the pineapple, combine with the rice and veggies.
Add pepper powder and tomato ketchup, give everything a good stir.
Finally garnish with Cilantro, Cashew nuts and Raisins.
Serve hot.
Cut the whole pineapple with the top part vertically into 2 halves.
Scoop out the pineapple from the inside of one of the halves, or using a sharp knife cut the pineapple from inside.
Create a hollow inside, so that there is enough space to serve the rice on it.
Serve the rice on the pineapple bowl and serve.
You can have this just as it is or serve as a side dish along with chicken or veggie stir fry.