Easy Homemade White Chocolate Truffles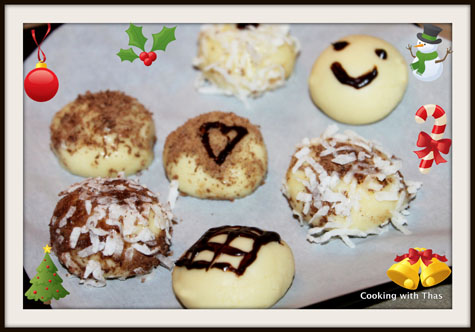 White chocolate chips, Hershey's Chipits- 170 g
Condensed milk- 80 ml 0r ⅓ cup
Vanilla extract, pure- 2 tsp
White chocolate chips, for coating the truffles- ¼ cup
Sweetened Coconut flakes- ½ cup
Cocoa powder- 4 tbsp
Semi-sweet chocolate, grated
Melt the white chocolate chips in a double boiler.
If you don't have a double boiler: Fill a large pan about half full with water and let come to a slight boil.
Place the white chocolate chips in a small non-stick pan and place the pan over the hot water in the large pan.
Keep stirring and let chocolate chips melt completely.
Pour the condensed milk and vanilla extract over the melted chocolate chips and combine well.
Let the mixture form a thick mixture.
Remove from the double boiler and let cool down.
Place the pan in the refrigerator and chill for about 1½ hours or until set.
After 1½ hours the mixture will be set and you can shape small balls out of it.
Shape into small balls and place on a baking sheet lined with parchment paper.
After shaping it, chill the truffles again for half an hour or so.
Melt the remaining ¼ cup of white chocolate chips in a double boiler.
Place the toppings: sweetened coconut flakes, cocoa powder and grated semi-sweet chocolates in small bowls and keep it ready for rolling the truffles into it.
Dip the chilled truffles first in melted white chocolate chips and then roll in desired toppings.
You could roll some of the truffles in all of the toppings, some in just coconuts and so on.
You could even use your favorite nuts for topping the truffles.
Be creative and add your own personal touch to the truffles.
Place the topped truffles in a parchment paper lined baking sheet and chill the truffles for 15 minutes before serving.
Leftover truffles can be refrigerated.
If you wrap these truffles beautifully in a box, this will make a delicious gift for your friends and family.
Recipe by
Cooking with Thas - Healthy Recipes, Instant pot, Videos by Thasneen
at https://www.thasneen.com/cooking/easy-homemade-white-chocolate-truffles/