Gluten Free Strawberry Cake and Pineapple Cake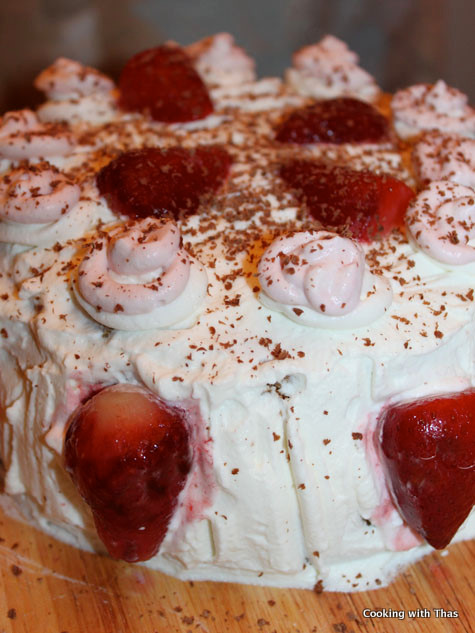 Cut the second cake horizontally into halves and keep aside.
Pineapples, diced, canned or fresh- 1 can
Sugar- 3 tbsp
Water or syrup from the can- 4 tbsp
Drain the syrup from the canned diced pineapple.
In a saucepan, cook the diced pineapple along with sugar and syrup or water until it gets slightly mashed for about 15 minutes.
Strain the syrup from the cooked pineapple filling, keep aside the syrup and filling separately.
Brush one of the cake halves with the pineapple syrup.
Spread the pineapple filling on the cake.
Spread the whipped cream over the filling.
Place the other half of the cake over the whipped cream, bottom side up.
Cover the cake with whipped cream and spread it evenly using a flat spatula.
Place round cut pineapples (canned) over the cake, and on the sides of the cake.
To make it colorful, I decorated the cake with dates as well.
If there is any leftover strawberry filling and syrup it can be used as a spread for breads and rolls.
Recipe by
Cooking with Thas - Healthy Recipes, Instant pot, Videos by Thasneen
at https://www.thasneen.com/cooking/gluten-free-strawberry-cake-and-pineapple-cake/