Gluten Free Strawberry Cake and Pineapple Cake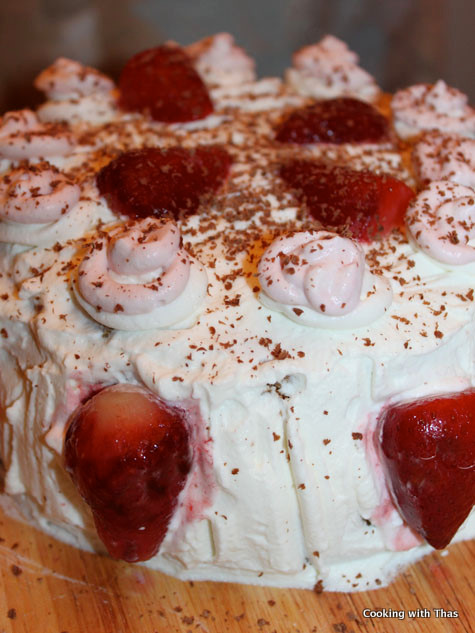 Gluten free all purpose flour or use regular All purpose flour - 3cups
Unsalted butter, slightly melted - 2 sticks or 1 cup
Baking soda - ¼ teaspoon
Baking powder - 2¼ teaspoons
Salt - 1 teaspoon
Granulated sugar - 1¾ cups
Large eggs, at room temperature - 4
Milk, whole or skim - 1⅓ cups
Pure vanilla extract - 1 tablespoon
Strawberries, fresh or frozen cut half - 4 cups
Sugar - ⅓ cup
Lemon juice - ½ tablespoon
Heavy Whipping cream, cold - 2 cups
Confectioners sugar or powdered sugar - 4 tablespoons
Preheat the oven to 350 F with one rack in the center and the other rack in upper position.
For 2 layered cake: Grease 9-inch round cake pan and line with parchment paper which is cut round to fit the bottom of the pan.
Since I made 2 small cakes each with 2 layers, I used two 7⅛'*1½" pans. You could also use 9-inch round cake pan.
In a large bowl, combine the flour, baking soda, baking powder and salt.
Beat the sugar and butter which is melted in a large bowl using a hand mixer till it gets smooth and fluffy.
Add the eggs, one at a time, beating well after each addition.
Add the flour, alternating with milk, beat it beginning and ending with the flour.
Avoid over beating the flour and milk mixture.
Add the vanilla extract and combine well.
Divide the batter between the two pans and keep the pan on the middle rack and bake it.
Bake for 45 minutes first and run a knife into the middle of the cake if it comes out clean and the center of the cake has cooked well, you could remove the cake from the oven.
If the center of the cake has not baked well, then keep the cake pan on the upper rack and continue to bake for another 15-20 minutes, checking frequently using a knife whether the center of the cake has baked to perfection.
For me, it took 1 hour to bake.
Transfer to wire racks and let the cakes cool in pan for about 10 minutes.
Run a knife around the edges of the cakes, invert onto racks and let cool completely.
While the cake is baking you could make the filling.
Place the halved strawberries along with the sugar and lemon juice into a saucepan.
Cook over medium heat, stirring occasionally for about 20 minutes till it's slightly mashed.
Strain the juice from the cooked strawberry filling and keep aside the filling and syrup separately, let cool down.
Using a hand mixer, whip the heavy whipping cream along with sugar until medium peaks form.
Don't over whip as the cream would change to butter.
Trim the cake tops and cut the each cake horizontally into two halves.
Brush one of the cake halves with strawberry syrup.
Spread the strawberry filling over the syrup.
Spread ⅓ rd of the whipped cream over the filling.
Place the other half of the cake over this, bottom side should be up.
Since I only made a 2 layered cake, after placing the second layer I covered the cake with whipped cream using a flat spatula.
Spread the whipped cream evenly; garnish the top of the cake and the sides with strawberry; I also made some other decorations too.
Finally, I sprinkled grated semi sweet chocolate on the cake.
After placing the 2 layers, repeat with two more cake layers and spread with whipped cream over the cake and do the decorations.