Stuffed Ground Beef Manicotti Recipe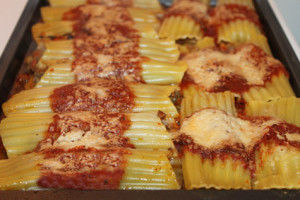 Ground beef- 1 pound
Onion-1
Red pepper- 1
Ground pepper- 1 tsp
Salt- 2 pinches
Olive oil- 1 tbsp
Tomato Sauce, low sodium- 2 cans (8 ounce each)
Thyme- 1 sprig
Rosemary- 5-6 leaves
Dried basil- ½ tsp
Dried Oregano- ½ tsp
Worcestershire sauce- 1 tbsp
Manicotti- 12
Salt- ½ tsp
Parmesan cheese, grated- to spread over the manicotti
Puree onion and red pepper in a blender.
Place a wide non-stick cooking pan over medium heat, add olive oil.
Add the ground beef and let it cook for a few minutes.
When the pink color fades, add the onion/red pepper puree and combine well.
Cook until the beef mixture is no longer watery and is almost dry.
Add the ground pepper, salt and combine well.
Remove from the heat and keep aside.
Heat a saucepan over medium heat.
Pour the tomato sauce, add the rest of the ingredients and let the sauce come to a boil.
Simmer for a few minutes and remove the pan from the stove.
Fill ¾ th of a large pot with water, let the water come to a rolling boil.
Add the salt and put the manicotti into the boiling water.
Cook the manicotti till it becomes tender.
Make sure not to over cook the manicotti.
Drain the water and keep aside the cooked manicotti.
Gently fill each cooked manicotti shell with 3 to 4 tbsp of ground beef mixture.
Preheat the oven to 350F (180 C).
Grease a baking sheet with non-stick cooking spray.
Place the stuffed manicotti as one layer on the baking sheet.
Spread the pasta sauce over the manicotti and generously spread the cheese over it.
As you can see, I didn't spread the pasta sauce all over the manicotti. If you prefer, you can pour the sauce all over the manicotti
Cover the baking sheet with aluminum foil and bake for 30 minutes.
Uncover and bake for another 5 more minutes.
Serve warm and enjoy with your family and friends!