Idiyappam Recipe - Kerala and Tamil Nadu Cuisine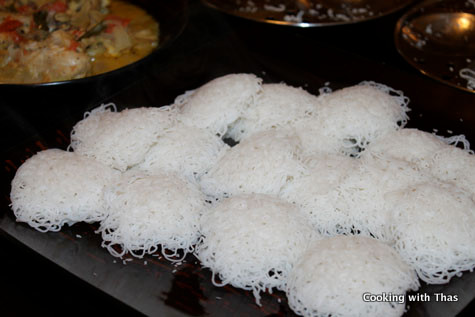 Rice flour, roasted and sieved- 1¾ cups
Water- 2½ cups
Salt- 2 pinches
Grated coconut- 1 cup
Oil- to grease the plates
Boil the water in a wide cooking pan, add the salt to the water.
When the water comes to a boil, add the flour and immediately stir it with a wooden flat spoon or rod.
Remove from the stove and let it cool down slightly.
After the dough cools down a bit, knead the dough using your hands until it is soft.
If the dough is not soft, add lil more warm water and combine well.
The dough should be really soft, but not watery.
Have the idiyappam maker ready with the small holed disc in it.
Place a medium sized ball of dough into the idiyappam maker.
The idiyappam maker I have is not the pressing type, it has a handle and needs to be rotated.
I made the idiyappam on Idli plates.
Grease each of the moulds on the plates for making idiyappam with little oil.
Turn the handle of the idiyappam and let the dough in the shape of noodles fall on the plate.
Sprinkle 1 tbsp of grated coconut on top of the uncooked idiyappam.
Repeat this process until you have all the idli plates filled.
Stack the idli plates on the stand and place it in a steamer filled with 1 cup of water.
Let steam cook for 10 minutes.
After 10 minutes, remove the steamer from the heat and let cool down.
Open the steamer and remove the plates from it.
Using a spoon, slide the idiyappam from the plates on to a platter.
Serve the hot idiyappams with your favorite curry. I served with Chicken Curry.