Chili Chicken – Famous Indo Chinese Recipe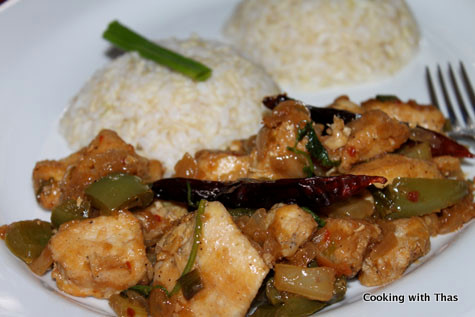 Chicken, boneless (thighs or breast)- 1 lb
Ginger-Garlic paste- 1tbsp
Corn flour- 2 tbsp
Egg, white or both- 1
Ground pepper- 1tsp
Salt- to taste
Vegetable oil- enough for frying
Sesame oil- 2tbsp
Dry red whole chili- 3
Chopped ginger- 2tsp
Chopped garlic- 2tsp
Peanuts- 2 handfuls
Onion, diced-1
Green pepper, diced- 1
Celery, diced- 1 stalk (optional)
Green onions, chopped- 2 stalks
Ground pepper- 1tsp
Soy sauce, low sodium- 3tbsp
Chili-Garlic sauce- 1tsp (depending upon your spice level)
Tomato Ketchup (optional)- 3 tbsp
Sugar- a pinch
Water- ¼ cup
Corn flour mixed in cold water- 2 tbsp
Cilantro, chopped- 1 handful
Combine chicken along with corn flour, ginger-garlic paste, egg, ground pepper and salt.
Heat a frying pan and add enough oil to fry the chicken.
Fry the chicken until it turns golden in color.
Transfer to a plate lined with paper towel, keep aside.
Place a wide pan or wok over medium heat.
Add sesame oil, when it gets hot add the dry red chili, chopped ginger and garlic.
Let the ginger and garlic turn golden in color.
Add the peanuts and saute for few seconds.
Add the diced onion, diced green pepper and green onions.
Saute and let the veggies turn slightly tender.
Pour the soy sauce, add the ground pepper, chili-garlic paste, tomato ketchup and a pinch of sugar.
Combine everything well.
Taste and add salt if required.
Add the water and let it come to a boil.
Add the fried chicken and combine well with the veggies and the sauce.
Pour corn flour mixed in water stirring contantly.
Sprinkle the chopped cilantro over the dish.
When the gravy has thickened, remove from the stove.
Serve hot along with plain rice, fried rice or brown rice.
Adjust the spice level according to your needs.
Usually in Indo Chinese dishes, ajinomoto or MSG (mono sodium glutamate) is added to enhance the taste. I avoid using this in my food. If you want you could add a pinch of ajinomoto while cooking the chicken along with the veggies and sauce.
In restaurants, they add red color while making chili chicken and hence it has a vibrant red color. I usually avoid using colors to my dishes.
Recipe by
Cooking with Thas - Healthy Recipes, Instant pot, Videos by Thasneen
at https://www.thasneen.com/cooking/chili-chicken/