Stuffed Baked Banana Peppers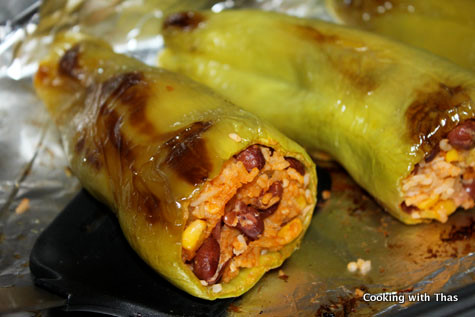 Banana peppers- 3 or more
Olive oil- 1 tbsp
Onion, chopped-1
Red beans, canned- 1 can
Yellow Corn- ½ can
Cooked Rice, I used Basmati rice- 2 cups
Chicken loaf, deli fresh, cooked (optional), chopped- 2-3 slices
Cumin powder- 1 tsp
Tomato Ketchup- 4 tbsp
Green onion, chopped- 3 tbsp
Cheddar cheese grated- 1 cup
Salt- if needed (taste and add accordingly)
Place a wide sauce pan over medium heat, add olive oil.
Add chopped onions, saute for few minutes.
Drain the canned red beans and yellow corn and rinse it with water.
Add the beans and corn to the onions, let it cook for few minutes.
Now, add the cooked rice and combine everything well.
Add the chopped deli fresh chicken loaves and cook for few minutes.
Add the cumin powder, tomato ketchup, green onion and give it a good stir.
Taste it and add salt if needed.
Finally spread the grated cheddar cheese over it and remove the pan from the stove.
Cut the top part of the banana peppers.
Remove the seeds from the peppers and stuff the peppers with the stuffing.
Push the stuffing inside the peppers with a wooden spoon.
Level the stuffing at the opening of the pepper.
Preheat the oven to 350F.
Place the stuffed peppers on a baking sheet or pan lined with aluminum foil which is sprayed with non-stick cooking spray.
Pop it into the oven and let it bake for 20 minutes or until the peppers have become charred.
Take the baked peppers out of the oven and let it cool down slightly.
You could serve this as an appetizer or as an entree along with other sides of your choice.
You could also serve any leftover stuffing along with the baked peppers.
Make sure you don't over stuff the peppers as some of the stuffing would come out of the peppers while baking.
Vegans: you could make this without the chicken.
Recipe by
Cooking with Thas - Healthy Recipes, Instant pot, Videos by Thasneen
at https://www.thasneen.com/cooking/stuffed-baked-banana-peppers/