Sardine roasted in Banana leaf served with boiled Tapioca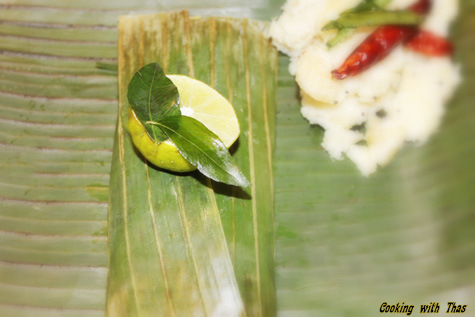 Whole sardines with head on, cleaned, washed with salt water several times and put ¾ gashes/lines on it-5
Chili powder- 3 tsp
Turmeric powder-1/4 tsp
Ginger/Garlic paste-1 tsp
Ground Pepper-1/2 tsp
Lemon juice-juice of ½ lemon
Salt- to taste
Coconut oil or vegetable oil- ¼ cup
Small onions- 20, chopped
Ginger chopped- 1 tsp
Garlic chopped- ½ tsp
Green chilies chopped- 2
Curry leaves- 1 sprig
Turmeric powder- ¼ tsp
Chili powder- ½ to 1 tsp
Thick Coconut milk- ¼ cup
Salt- to taste
Coconut oil-2 tbsp
Tapioca- 2, peeled and sliced into cubes
Water- for boiling
Salt- to taste
Mustard seeds- ½ tsp
Whole red dry chilies-3
Curry leaves- 1 sprig
Grated Coconut- ¼ cup
Coconut oil- 1 tbsp
Marinate the fish with all the above ingredients, keep it aside for 30 minutes or longer the better (you could even marinate overnight in the refrigerator).
In a non-stick pan, shallow fry the fish in oil, it should be moist and soft, avoid deep frying the fish.
In a deep bottomed skillet, saute small onions, add ginger/garlic/ green chilies and curry leaves. Cook until it turns golden brown.
Now add turmeric powder and chili powder, stir well.
Reduce the heat to low, add the coconut milk , if the coconut milk is too thick add a little water to it.
Combine with the masala, cook for a minute and remove from the flame. Don't boil the coconut milk.
Banana leaves- enough for individually wrapping 5 sardines.
Wash the leaves and pat dry it. Slightly wilt the leaves by showing them carefully over the low flame of a gas range. Be careful not to burn them unduly. Wipe with a damp kitchen cloth or paper towel.
On the middle of the banana leaf, make a bed with 2-3 tbsp of gravy, place one of the fishes on top of the gravy, then top it with more of the gravy.
Wrap the banana leaf. In order to wrap the banana leaf tightly, you could even cover the banana leaf with aluminum foil and wrap it. This would keep the banana leaf in place. Wrap all the fishes like this.
You can roast in the oven or on stove top.
Preheat the oven to 350F. Place the wrapped fishes on a baking sheet and roast it for 20 minutes.
On a large flat pan or tawa, place the wrapped fishes, close it with the lid and cook for 15-20 minutes on low flame.
Serve the fish wrapped in banana leaf.
Boil the tapioca in enough water seasoned with salt. Cook till gets fork tender.
Drain any excess water and keep it aside, avoid mashing the tapioca.
Heat a pan, add the oil let it turn hot, add mustard seeds, when it starts to splutter, add red chilies and curry leaves.
Now, add the boiled tapioca and give it a stir.
Add the grated coconut to this and stir fry it until the mixture gets dry and coconut starts to turn golden brown.
Serve immediately with the fish.
You could even serve the fish along with rice.
If you don't have banana leaves, use aluminium foil instead.
Recipe by
Cooking with Thas - Healthy Recipes, Instant pot, Videos by Thasneen
at https://www.thasneen.com/cooking/sardine-roasted-in-banana-leaf-with-boiled-tapioca/