Salami Pizza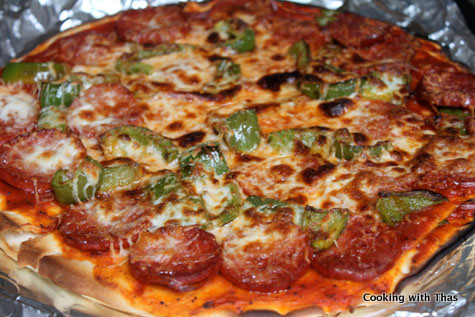 Tomato sauce- 1 can, (398 mL)
Cajun seasoning- 2tsp
Rosemary- 1 sprig
Basil leaves, dried- 1tsp
Olive oil- 2tbsp
Water- ¼ cup
Heat a sauce pan over medium heat: add the tomato sauce, cajun seasoning, rosemary, basil leaves, olive oil and water.
Let the sauce come to a boil.
Simmer it and let it thicken for few minutes.
Remove from the heat and keep aside covered.
Cut the salami into thin slices.
Heat a wide pan over medium, spray the pan with non-stick cooking spray.
Arrange the salami slices on the pan and let cook for couple of minutes.
Flip to the other side and let cook for a minute.
Don't burn or over cook the salami.
Cut green pepper into cubes.
Place them on the same pan used to saute salami.
Saute the green pepper until it turns tender, remove from the pan and keep aside.
Evenly and generously spread the pizza crust with the sauce.
Top the crust with green peppers and grilled or sauteed salami.
Sprinkle generously with Mozzarella cheese.
Pre heat the oven to 400F.
Grease the pizza pan with non-cooking spray.
Place the pizza crust with the topping on the pan and put into the oven.
Bake for 7 minutes until the cheese melted.
After that turn on the broiler of the oven to low.
Place the baked pizza under the broiler and broil it for a minute.
Don't over broil the pizza as the crust will be burned.
Let the pizza cool for a while and slice it with a pizza cutter.
Gobble up immediately, the aroma from the salami is irresistible that will make anyone in the house run towards the kitchen.