Beetroot Chutney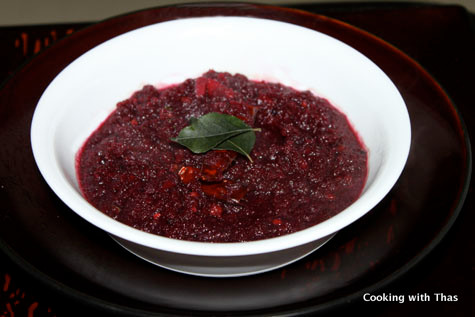 Beet root, cubed- 2, small
Ginger, chopped- 1 inch
Green chili- 1
Cilantro, chopped- 1 handful
Salt- 2 pinches
Oil- 1 tbsp
Mustard seeds- 1 tsp
Chana dal- 1 tsp
Urad dal- 1 tsp
Dry red whole chili- 2
Curry leaves- 1 sprig
Tamarind juice- 2 inch fresh tamarind soaked in 3 tbsp water
Salt- to taste
Grind the above mentioned "to grind ingredients" into a smooth paste.
Heat a wide pan over medium heat, add oil, let oil turn hot.
Add mustard seeds and let it splutter.
First add the chana dal, stir constantly and let turn golden.
Immediately add urad dal and keep stiring, don't burn the dals.
Add dry red chili and curry leaves, saute for a few seconds.
Pour the ground beetroot and combine well.
Strain the juice from the fresh tamarind and pour it to the beetroot.
Combine everything well and let cook for a few minutes.
If the mixture is getting dry, you could add a little water to it and cook it.
Taste it and add salt if needed.
Remove from the stove and transfer into a serving bowl.
This will in fact make a great side dish for rice, dosa, Idli, chapati etc.