Baked Sweet Potato Fries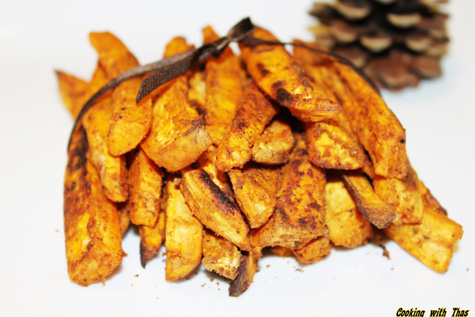 Sweet potato- 2, cut into long thin wedges
Cumin powder- 1tsp
Pepper powder-1 tsp
Paprika-1tsp
Salt-1/4 tsp
Olive oil-1-2tbsp
Preheat oven to 400F.
Peel the skin of the sweet potato using a peeler and cut into thin long wedges.
In a large bowl toss the sweet potato along with all the spices and oil.
Arrange potatoes in a single layer on a baking sheet lined with aluminum foil and place on the middle rack of the oven.
Bake it for 30-40 minutes until the potatoes are cooked through and the edges turn crispy.
Serve immediately while it is hot.