Spicy Fish Curry made in the Clay Pot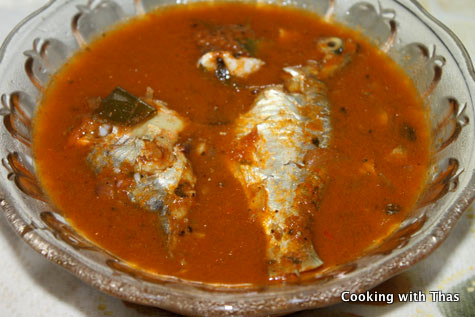 Fish- Malabar Trevally or Para (in malayalam), any small to medium sized whole fish, cleaned- 7
Small onions, chopped- 10
Ginger, chopped- ½ tsp
Garlic chopped- 1 tsp
Fresh Tamarind juice- juice from a golf size tamarind
Water- enough to make the gravy
Curry leaves- 1 sprig
Coconut oil- 2 tbsp
Small onions- 10
Tomato, chopped- 1
Curry leaves- 1 sprig
Chili powder- 2 tsp
Turmeric powder- ¼ tsp
Coriander powder- 1½ tsp
Ground pepper- ½ tsp
Salt- to taste
Clean the fish under running water and remove any internal organs found in them and keep aside.
Grind the above mentioned to grind and to make paste ingredients into a smooth paste and keep aside.
Heat a clay pot, add oil, add the small onions, ginger and garlic, saute for few minutes.
Add the ground paste to the sautéed onion mixture and saute the paste for few minutes without burning it. Add salt to taste.
Soak the golf size fresh tamarind in 3 tbsp warm water for 5 minutes and squeeze the tamarind juice out of it. Discard the skin.
Pour the tamarind juice into the clay pot, add enough water (1 cup water) to thin down the gravy and give it a stir.
Now, add the cleaned fish and curry leaves into the curry or gravy, cover the clay pot with a lid and let come to a boil. Make sure to lower the heat.
Taste the curry and add more salt if needed.
When the curry has come to a boil and the fish cooked well, remove the clay pot from the heat, cover it and let cool down for sometime.
This fish curry goes well with rice, pathiris, and chapatis.
You could adjust the spice level according to your needs. The more the spice the more tastier this fish curry gets.
You could also store the ground paste in the refrigerator for few days.
This fish curry tastes better the next day.
Recipe by
Cooking with Thas - Healthy Recipes, Instant pot, Videos by Thasneen
at https://www.thasneen.com/cooking/spicy-fish-curry-made-in-the-clay-pot/