Spinach Cheese Rolls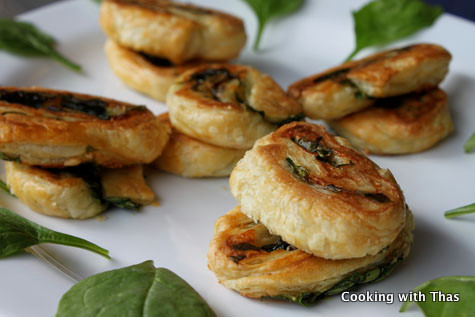 Puff Pastry sheet- 1
Egg- 1
Ground cinnamon- ¼ tsp
Grated Parmesan cheese- ½ cup
Raisins or dried cranberries(optional)- 2 tbsp
Spinach, frozen or fresh- ½ bag
If you are using frozen puff pastry sheet, thaw the sheet at room temperature for about 30 minutes or so.
Preheat oven to 400 F.
Lightly grease 2 baking sheets.
Beat egg and ground cinnamon using a hand whisk and keep aside.
If using frozen spinach, thaw and drain it well.
If using fresh spinach, rinse it under running water and pat dry it.
Place the puff pastry sheet on a floured surface.
Brush the top of the sheet with egg and cinnamon mixture.
Top with grated parmesan cheese.
Spread spinach and raisin over the cheese layer.
Roll up the puff pastry sheet.
Cut the roll into ½ inch slices.
Arrange the slices on the baking sheets.
Brush the slices with egg mixture.
Bake for 15 minutes or until golden.
Flip the rolls to the other side and bake for another 3-5 minutes, make sure not to burn the rolls.
Serve immediately while it's warm.