Bitter Gourd (Bitter Melon) Roast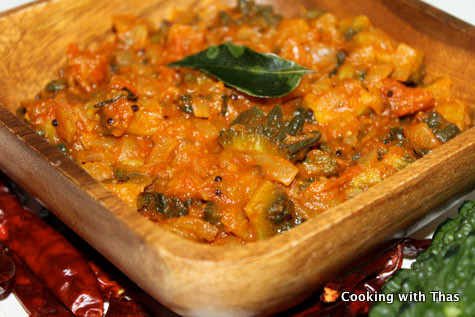 Mustard seeds- ½ tsp
Onions, chopped- 2 small sized
Tomato, chopped- 2 small sized
Bitter gourd, chopped, deseeded- 2
Chili powder- 2 tsp
Turmeric powder- ¼ tsp
Cumin powder- 1 tsp
Coriander powder- 1 tsp
Tamarind juice, fresh- 3 tbsp, soak 2 inch slice tamarind in ¼ cup warm water
Jaggery or brown sugar- 1 to 2 tbsp
Curry leaves- 1 sprig
Salt- to taste
Oil- 1 tbsp
If using fresh tamarind juice: soak 2 inch slice tamarind in ¼ cup warm water for 5 minutes, squeeze the tamarind in water to get the juice out of it using your fingers. Strain the juice and discard seeds and skin.
Place a wide pan over medium heat, add the oil and add mustard seeds, let it splutter.
Add the onions along with little salt and saute till tender.
Add the curry leaves to the onions.
Add the tomatoes and cook till they are cooked well.
Add the chopped bitter gourd and cook covered till the bitter gourd turns tender.
After the bitter gourd turns tender, add chili powder, turmeric powder, cumin powder and coriander powder.
Saute, add the tamarind juice and jaggery or brown sugar to the cooked bitter gourd.
Cover the pan and cook for another 10 to 15 minutes by adding little water to prevent from burning.
Taste and add more jaggery or brown sugar, tamarind juice if you need.
Combine everything, and stir fry till the water dries off.
Transfer to a serving bowl.
This could be served as a side dish along with plain rice or rotis.
If you are using concentrated tamarind paste, don't add 3tbsp of it, use less may be ½-1 tsp or according to your needs.

Bitter gourd is available in almost all Indian stores, if not fresh you could find frozen ones.

Remove the seeds to make it less bitter.

Jaggery or brown sugar and tamarind juice will give a sweet and tangy taste to this dish.

Recipe by
Cooking with Thas - Healthy Recipes, Instant pot, Videos by Thasneen
at https://www.thasneen.com/cooking/bitter-gourd-bitter-melon-curry/