Restaurant Style Spicy Chicken Wings and it's Baked!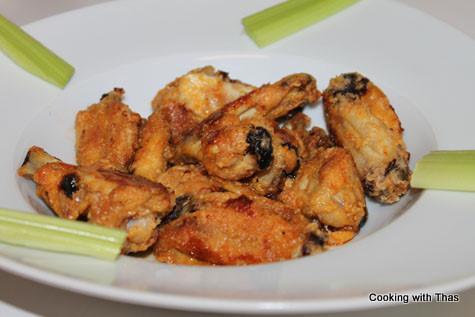 Chicken wings, skinless or skin-on- 12 (skin-on wings turn much crispier and tastes better)
All-purpose flour- ½ cup
Paprika- 1 tsp
Cayenne pepper or chili powder- ½ tsp
Salt- ¼ tsp
Butter- ¼ cup
Hot sauce- ¼ cup
Ground black pepper- ¼ tsp
Garlic powder- ¼ tsp
Preheat the oven to 350F.
Clean the chicken wings, if you want you could remove the skin or keep it (it's up to you).
In a small bowl, combine all-purpose flour, paprika, cayenne pepper or chili powder and salt.
Place the chicken wings in a large glass bowl.
Coat the wings evenly with flour mixture.
Cover the dish with a plastic wrap and keep it in the refrigerator.
Let marinate for an hour or 90 seconds.
Spray a baking sheet with non-stick cooking spray, preferably Pam. Or line the baking sheet with aluminum foil greased with non-stick cooking spray.
Place the marinated chicken wings on the sheet and lightly spray the wings with non-stick cooking spray.
Bake for initial 45 minutes at 350F.
After 45 minutes of baking, increase the oven temperature to 375 F.
Take the wings out and spray them with non-stick cooking spray.
Bake them again at 375 F for another 10 minutes, this would make the wings crispy.
Make the sauce while the wings are baking.
Heat a saucepan over low heat, add the butter, hot sauce, ground pepper and garlic powder, stir together.
Let the butter melt and stir till the mixture is well blended.
Remove from the heat and pour the sauce over the baked crispy chicken wings.
Serve the wings along with hot sauce on the side. Dip the wings in hot sauce if you want it to be more spicy.
If you can't handle much spice, reduce the amount of hot sauce accordingly.
Health freaks: you could reduce the amount of butter used according to your needs and use fat-free cooking spray.
Recipe by
Cooking with Thas - Healthy Recipes, Instant pot, Videos by Thasneen
at https://www.thasneen.com/cooking/restaurant-style-spicy-chicken-wings-and-its-baked/