2 Ingredient Microwaved Palkova- Easiest Palkova with Condensed Milk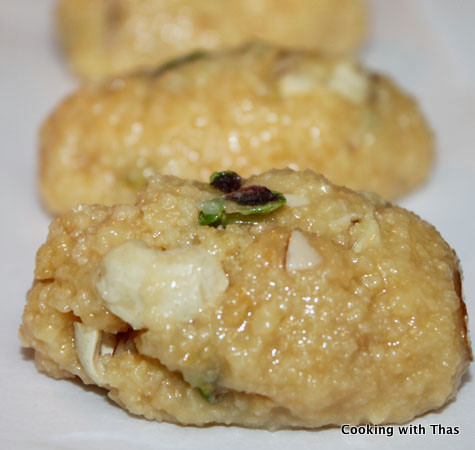 Condensed milk, sweetened- 1 can, 300 mL
Yogurt or curd, thick- 1tbsp
Pistachios, chopped- 1 tbsp
Almonds, chopped- 1tbsp
Cashew nuts, chopped- 1tbsp
In a large microwave-safe glass bowl (make sure to use a large bowl as the condensed milk will rise high when it boils), combine condensed milk and yogurt well in the bowl.
Place the bowl in the microwave and heat for 2 minutes at high power.
Take the bowl out, using a non-stick spatula stir the mixture well.
Again, heat for another 2 minutes, the mixture will have a curdled constituency at this point.
Take the bowl out, combine well.
Again, heat for another 3 minutes,stirring it after every 1 minute of heating. The bowl will be very hot so wear the microwave oven gloves.
After a total of 7 minutes of heating, the mixture will have a light brown color.
Grease a dish with butter or ghee, spread the palkova mixture on the dish.
Garnish the palkova with the above-mentioned nuts or your favorite nuts.
Let cool down to set.
After it cools down, you could roll it into any shape of your choice.
Serve it on parchment paper and indulge in this sweet.
It's YUM!
Make sure to stir the mixture after every minute of heating, otherwise it will burn at the bottom.
The power of every microwave is different, so do keep an eye on the mixture for the entire 7 minutes of heating.
You could also add a pinch of saffron to the mixture for an extra flavor. If you want you could avoid the nuts.
Health freaks: use fat-free condensed milk.
If there are any leftovers, you could refrigerate it.
If you don't have a microwave, try making this on the stovetop in a non-stick pan, make sure to continuously stir the mixture while heating it and stop heating it when it gets a light brown color.
Recipe by
Cooking with Thas - Healthy Recipes, Instant pot, Videos by Thasneen
at https://www.thasneen.com/cooking/2-ingredient-microwaved-palkova-easiest-palkova-with-condensed-milkpalgova-with-nuts-easy-milk-fudge/