Cooking on the Griddle: Asian Honey Chicken and Griddled Asparagus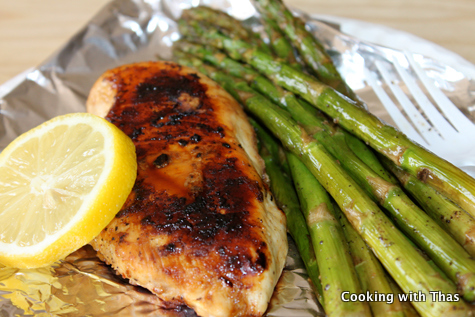 Boneless chicken breasts- 3 or 4
Soy sauce, low sodium- 2 tbsp
Garlic, minced- 1tsp
Honey- 2 tbsp
Lemon juice- 1 tbsp
Ground black pepper- ¼ tsp
Olive oil- 1tbsp
Asparagus, rinsed- 1 bunch
Ground pepper- ¼ tsp
Salt- to taste
Olive oil- 1tbsp
Cover the chicken breasts with aluminum foil or plastic wrap and flatten slightly with a rolling pin.
In a bowl combine all the above ingredients for marination.
Pour the marinade into a ziplock bag and put the chicken breast into the bag.
Close the bag and shake the bag so that the chicken gets coated with the ingredients.
Marinate the chicken in the refrigerator for at least one hour.
Heat the griddle to 350-375.
Spray the griddle with non-stick cooking spray.
Place the chicken breasts on the griddle and let the chicken cook thoroughly on both sides.
If you like your chicken to be browned, then cook till it gets slightly caramelized on both sides.
Do not over cook the chicken or make it too dry. It should be moist and juicy inside.
Serve immediately while it's hot with griddled asparagus.
Cut the tough ends of the asparagus and rinse under running water.
Toss the asparagus with ground pepper, salt and olive oil.
Heat the griddle to 350 and spread the asparagus on to the griddle.
Let asparagus turn slightly browned.
It will take about 5 minutes for the asparagus to cook.
When it's done, place the asparagus on an aluminum foil and cover it to keep it warm.
Serve the griddled Asian honey chicken with the griddled Asparagus and a slice of fresh lemon.