Cooking on the Griddle: Asian Shrimp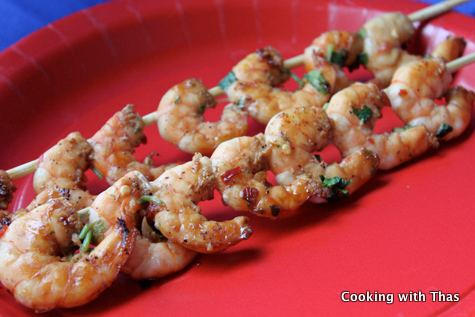 Shrimp, deveined, de-shelled- 14
Soy sauce- 3tbsp
Ground pepper- 2 pinches
Lemon juice- 2tbsp
Chili garlic paste- 1tsp
Garlic minced- 1tsp
Onion, minced- 1tbsp
Cilantro- 2tbsp
Soak 2 large skewers in water for an hour so they will not burn on the grill or griddle.
Devein and de-shell the shrimp and wash under running water and keep aside.
In a bowl, combine the above mentioned marinating ingredients.
Spread the marination on the shrimp, cover and refrigerate for 30 minutes or so.
Remove skewers from water, pat dry and spray with nonstick cooking spray.
Skewer the shrimp.
Turn on the griddle to 350.
Place the shrimp and grill on both sides till it turns slightly browned, about 5 minutes per side.