Vanilla Custard with Fruits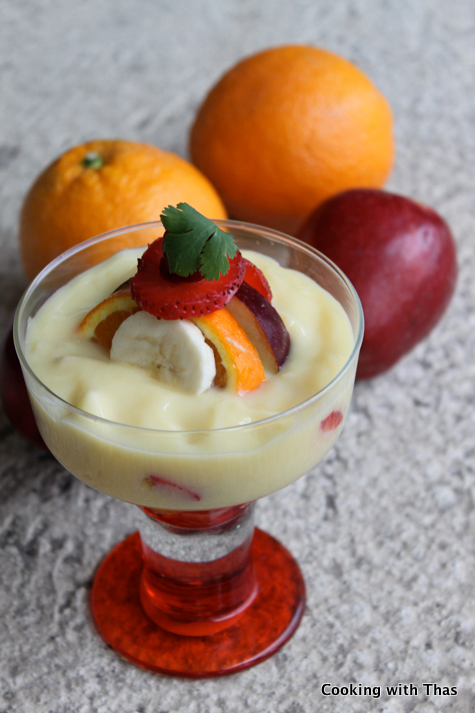 Sugar- ⅔ cup
Corn starch- ¼ cup
Salt- ¼ tsp
Milk- 2½ cups
Egg yolks- from 4 large eggs
Vanilla extract- 1tsp
Butter, unsalted- 2 tbsp, cut into small pieces
Apple, chopped finely-1
Orange, chopped finely-1
Banana, ripe, chopped-1
Strawberries, chopped finely- 4 no's
Place a fine-mesh sieve over a large bowl and set aside.
In a medium saucepan, combine together sugar, corn-starch and salt.
Add milk slowly and dissolve the cornstarch completely.
Whisk in the egg yolks.
Place the saucepan over medium heat, whisking constantly until the first large bubble forms and it splutters.
Reduce heat to low, whisking constantly and cook for a few minutes.
The mixture will start to thicken, whisk constantly till it gets a thick constituency.
Remove from the flame, immediately pour the mixture sieve into the bowl (this is to remove any tiny particles that might be present in the custard).
Stir butter and vanilla extract into hot custard and combine well.
Place a plastic wrap directly on the surface of the custard (to prevent the formation of skin on the custard).
Chill for 3 hours in the refrigerator or keep it overnight.
After 3 hours, take the custard out, mix the vanilla custard and serve with fruits in a dessert bowl.
Combine the fruits in a small bowl and keep aside.
In a dessert bowl, add 2 tbsp of the fruits as the first layer.
Add 3 tbsp of the vanilla custard and smooth the top, this is the second layer.
Again, add 2-3 tbsp of the fruits as the third layer.
Add vanilla custard as the fourth layer.
Top with cut fruits on top.
You could also add almonds, pistachios, cashew nuts or your choice of nuts.
To make chocolate custard: Add cocoa powder along with corn starch and sugar.
Drizzle the custard with honey or maple syrup.
Recipe by
Cooking with Thas - Healthy Recipes, Instant pot, Videos by Thasneen
at https://www.thasneen.com/cooking/vanilla-custard-with-fruits/