Dosa - Popular South Indian Breakfast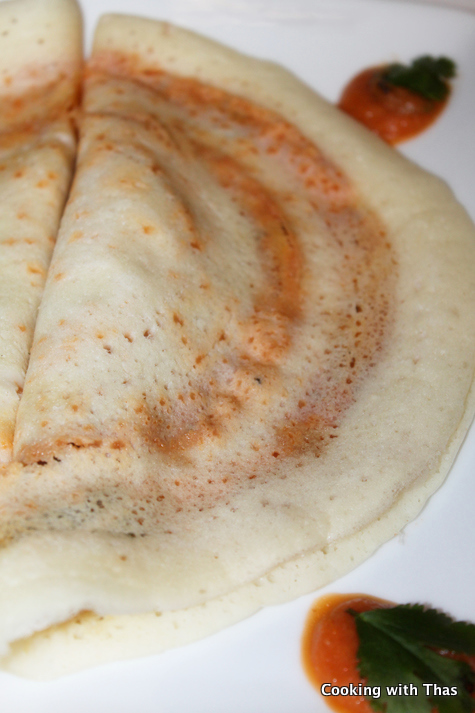 Raw white Rice, ponni rice or sona massori rice- 2 cups
Black lentil or Urad dal- 1 cup
Chana dal- ¼ cup
Fenugreek seeds- 2 tsp
Water- enough to make the batter
Salt- to taste
Ghee- enough to drizzle while making dosa
Rinse the rice, lentil and chana dal under running water.
In a large bowl: add rice, urad dal, chana dal and fenugreek seeds, soak in water for about 8 hours or overnight.
Drain all the water from the rice and lentils; grind to a smooth batter by adding just enough water.
Pour the thick batter into a large bowl.
Keep the batter aside in a warm place and allow it to ferment, which will take 8 hours or keep it overnight.
During summer the batter will ferment faster, so you could keep it on the kitchen counter top.
During winter it takes a long time, so keep the bowl with the batter inside the oven (turn on the oven to the lowest temperature, after 5 minutes turn off the oven and keep the batter inside the oven) this will speed up the fermentation.
After the batter has fermented, take as much as batter as you want in a separate bowl and refrigerate the remaining batter.
Add water to thin down the batter.
Add a few pinches of salt to the batter and combine well.
Heat a cast iron skillet over medium high heat. The pan has to be hot.
Spread 1 tsp ghee on the pan.
Fill the ladle with dosa batter and gently pour the batter onto the center of the pan.
Now begin to spread the batter in circular motion to a thin round shape.
The dosa will start to develop tiny holes at this time.
Drizzle little ghee over the dosa and lift the pan and swirl so that the ghee will spread all over the dosa.
When the top of the dosa has cooked, flip it to the other side.
The bottom side will have a golden color and cook the other side as well.
Remove from the pan and keep aside.
Spread the prepared tomato chutney over each dosa and fold it.
Serve this with tomato chutney on the side.
Make dosa on a cast iron skillet- this will ensure nice golden color and better taste.
For making small dosa
After pouring the batter on the pan, don't spread the batter, instead cook as it is and you will have small dosa resembling pancakes.
Recipe by
Cooking with Thas - Healthy Recipes, Instant pot, Videos by Thasneen
at https://www.thasneen.com/cooking/dosa-rice-and-lentil-crepes-popular-south-indian-breakfast/