Chicken Asparagus Stir fry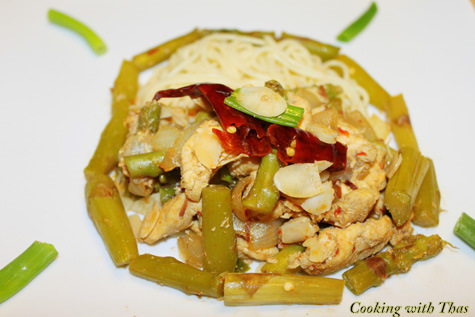 Boneless Chicken breast, cut into long stripes or cubes-1 pound
Asparagus, stems removed, cut into 1 inch- 8 stalks
Onion, sliced lengthwise-1
Garlic-1tsp
Dry red chilies-2
Sambal oelek-2tsp
Soy sauce-2tbsp
Worcestershire sauce-3tsp
Almonds sliced-1/4 cup
Green onions chopped-1 stalk
Sesame oil/vegetable oil-2tbsp
In a wok or deep bottomed skillet, add oil, fry the garlic until fragrant, and not brown.
Add the chicken and stir fry it until almost done.
Add sambal oelek and mix well.
Add asparagus and onion and stir fry till it gets soft.
Add dry chilies to this.
Add the sauces and give it a good stir.
Add almonds and stir fry for 1 minute and finally add the green onions.
Serve warm with your choice of side dish: rice, vermicelli pasta, or any kind of noodles would go with this.
You could even stir the noodles or vermicelli along with the chicken/veggie at the end.
You could control the spice level based on your needs.
Recipe by
Cooking with Thas - Healthy Recipes, Instant pot, Videos by Thasneen
at https://www.thasneen.com/cooking/chicken-asparagus-stir-fry/