Payar Kanji or Rice and Mung Bean Coconut milk porridge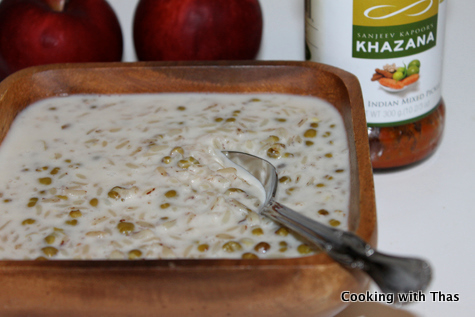 Rosematta or kerala Matta Rice- 1½ cups
Mung Bean- 1 cup
Water- 4 cups
Salt- to taste
Coconut milk, thick- 2 cups
Water, to thin down the soup- 1 cup
Wash the rice and mung bean in water.
In a pressure cooker, cook rice and mung bean along with 4 cups water and salt for 30 minutes.
Let pressure subside completely and open the lid.
After rice and mung bean have cooked,using the wooden spoon slightly smash the cooked rice and bean.
Add coconut milk and combine well.
Add ½ to 1 cup water to thin down the constituency.
Heat the coconut milk-rice and mung bean porridge for a few minutes, but don't boil it.
Taste it and add more salt if needed.
Serve hot in a soup bowl and enjoy with pickle.
You could adjust the constituency according to your desire by adding a combination of coconut milk and water.
Add enough salt to taste.
Recipe by
Cooking with Thas - Healthy Recipes, Instant pot, Videos by Thasneen
at https://www.thasneen.com/cooking/payar-kanji-rice-mung-bean-coconut-milk-soup-porridge/