Onion Rings and Scallion Tempura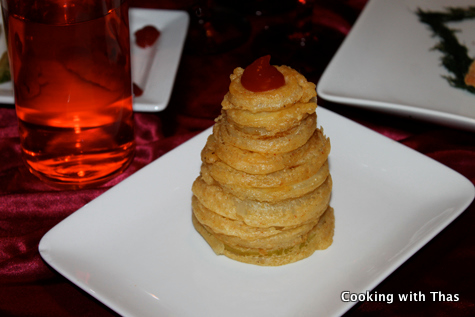 Flour- 1¼ cups
Cornstarch- ⅓ cup
Chili powder- 1tsp
Baking powder- 1 tbsp
Salt- 1 tsp
Ice water- 1 cup + 2 tbsp
Scallions or green onions, cut 3 inches long- 4 stalks
Onion, cut into ¼ inch thick rings- 2
Vegetable oil- for frying
In a large bowl of cold water, soak the onions for 15 minutes. Drain on paper towels.
Fill in a large bowl, halfway with ice.
In a medium bowl, whisk together the flour, cornstarch, baking powder, salt and chili powder.
Add the ice water and stir until a thin batter forms. If the batter is thick add enough water to thin down.
Place the batter bowl inside the bowl of ice.
In a deep fryer or skillet, heat enough oil for frying.
Using tongs, dip the scallions and onion rings in the batter, letting the excess drip off.
Drop the rings and scallions in batches into the oil and deep fry until golden.
Using a slotted spoon, transfer the rings and scallions to a paper towel.
Serve the onion rings and scallion tempuras with tomato ketchup.