King fish with Corn Chowder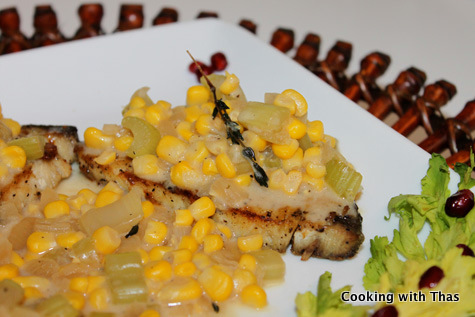 Kingfish- 4 steak
Ground pepper- ¾ tsp
Nutmeg- ½ tsp
Salt- to taste
Oil- for shallow frying
Olive oil- 2 tsp
Onion, minced-1
Celery, chopped-2 ribs
Corn, rinsed- 1 can
Thyme- 1 sprig
Flour- 1tbsp
Vegetable stock- 1cup
Coconut milk-3/4 cup
Ground Pepper- ½ tsp
Salt- to taste
Marinate the fish with the above ingredients except oil and keep aside for 15 to 30 minutes.
Heat a nonstick pan over medium flame, add oil, when it gets hot place the fish on it.
Shallow fry the fish flipping on both sides until it turns golden brown.
Remove from the pan and keep aside.
Place a saucepan over medium heat, add olive oil, onion, salt, ground pepper and saute.
Add celery and thyme, cook until the veggies turn tender.
Add flour and combine well into the veggies
To this add vegetable stock and stir constantly to prevent the flour turning into lumps.
Add Corn to this and cook for few minutes.
Finally, lower the heat and add the coconut milk, heat the milk but don't boil it.
Remove from the heat and keep aside.
While plating, first place a kingfish steak, on top of the fish pour a spoonful of corn chowder.
Enjoy this meal with dinner rolls.
Leftover corn chowder can be transformed into next day hot soup after thinning it down with more of the coconut milk.