Easy Apple Pudding- Best Tasting Apple Pudding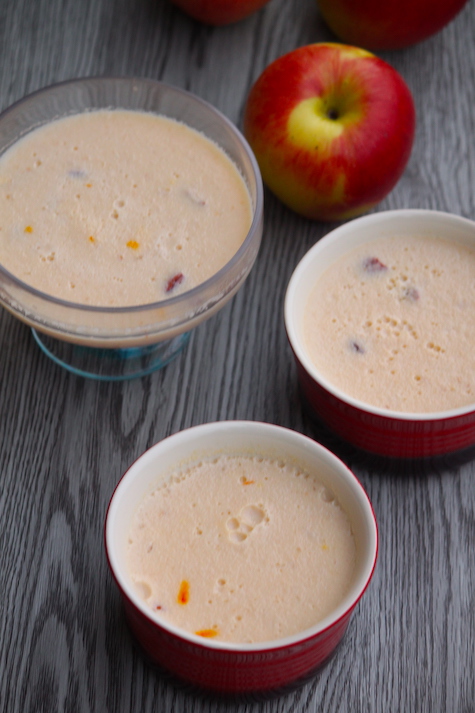 Apples, diced- 3 ( I used Ambrosia apples)
Water- ½ cup
Milk- 1½ cups
Condensed milk- ¾ cup
Agar-agar strands- ½ cup, 2 inches cut strands
Water- ½ cup
Saffron- 2 pinches soaked in 1 tbsp water
Almonds, chopped- ¼ cup
The apples that I've used is Ambrosia variety. You can also use red delicious or gala. Do not use green apples.
In a small bowl, add 2 pinches saffron and 1 tbsp water, let stand for 5 minutes.
In a saucepan placed over medium heat, combine milk and condensed milk. Cook and let milk come to a slight boil.
I used agar-agar strands, if long strands- cut into 2 inches long and add ½ cup.
In another saucepan placed over medium heat, add ½ cup agar-agar strands and ½ cup water. Let agar agar strands dissolve in water, will take 5 minutes.
While the milk comes to a slight boil- In a blender puree 3 apples diced with ½ cup water till smooth.
Add the dissolved agar-agar strands to milk/condesned milk. Combine well.
Remove the saucepan from the heat.
Only after the saucepan is taken out of the heat, add the pureed apples. Combine well.
If pureed apples are added to hot milk, it could curdle.
Give a taste and add more condensed milk if you prefer more sweet.
If adding red delicious apples, the pureed apples will be very sweet so adjust the amount of condensed milk accordingly.
Add saffron water to the pudding mixture, combine well.
Add chopped almonds, combine well.
Let the pudding mixture cool down for 5 minutes.
Pour into individual ramekins and place in the refrigerator to set for an hour to 2 hours.
The pudding will set quickly.
Enjoy the delicious apple pudding, it's super Yum!